The results are in for the Iams Home 4 the Holidays Campaign and over 1.2 million animals were adopted during the 2011 campaign.  That is an average of 9 adoptions per minute! The Iams Home 4 the Holidays is one of the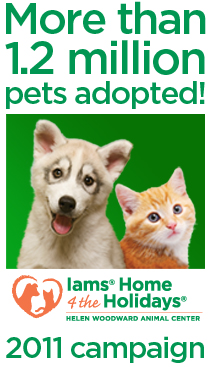 world's largest adoption programs and this year when the results were tallied there were 1,267,541 animals adopted in 95 days. The campaign began 13 years ago, and in that time , founding partner Helen Woodward Animal Center, along with more than 4,000 animal organizations from around the world have helped a total of 7,034,989 pets find their forever homes.
"In just three months, we've saved the lives of more than 1.2 million animals and have given them a second chance at life and love," said Mike Arms, founder of the adoption drive and president of Helen Woodward Animal Center. "Not only is this a huge victory for these pets, but for the thousands of people working in animal organizations around the world who have dedicated their lives to helping end pet homelessness."
The Bags 4 Bowls program also met its goal to donate 5 million meals to pets in need!
The Tiniest Tiger Community rallied to help "paw it forward" by participating in the Bags 4 Bowls program by uploading photos of pets and leaving comments that totaled up to providing 47,024 Meals to feed our cousins in need.  I am  super proud that our community rallied together to increase our Meals by 32% over the 2010 campaign when we generated 32,375!
I want to thank you from the bottom of my heart that you took the time to comment and upload photos to help feed our cousins in need.  We have the best caring cat community in the world.
Here are a few more results of the 2011 Campaign.

Dogs Win By a nose-This year, more dogs were adopted, with 651,224 finding new families, to 595,000 cats and 21,317 other pets (including rabbits, reptiles, horses, birds and more);–
Millions of pets now have homes – Since 1999, a total of 7,034,989 animals have been adopted through the program;
Cards for a cause – More than 1,000 cards were created and shared from the Iams Facebook page, generating thousands of meals donated;
The 2012 program will begin in October. Wouldn't it be wonderful if we could increase our donations by another 32%? I believe we can do it! Thank you again for caring for all cats, big and small.