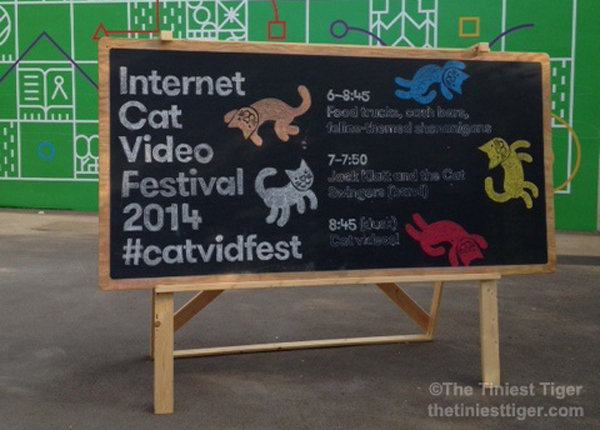 This post is sponsored by Rachael Ray Nutrish. All thoughts and opinions are our own. As always, thank you for reading and supporting our sponsors.
Last week I was invited to attend the Internet Cat Video Festival ,at the Walker Art Center's Open Field in Minneapolis, as part of Rachael Ray's Nutrish for Cats team.  This is the third year the Walker Center has hosted cat-centric festival that features live music, vendors, and a fun day that culminates with the showing of the reel.
This year's reel  featured a new selection of cat videos programmed by Will Braden, creator of Henri Le Chat Noir videos and the first recipient of the Golden Kitty (People's Choice) award.   The videos that make it to the final reel are narrowed down, by a select group of Jurors, from hundreds of videos cat enthusiasts submit hoping for inclusion.  I had the honor of being one of the jurors in 2013 and 2014.  The top five videos become the five nominees for the People's Choice Award and the winner of the Golden Kitty is chosen by the voting public.  This year's winner of the Golden Kitty was 8 Signs of Addiction by Sho Ko.
The Internet Cat Video Festival was sponsored by Animal Planet.  Attendees  participated in fun activities prior to the showing of the reel, there was face painting, an animated GIF photo booth,  food trucks and other feline-themed activities on the open field.    Super cute kittens and puppies available for adoption too.  This sweet little puppy was caught on camera taking a much needed nap.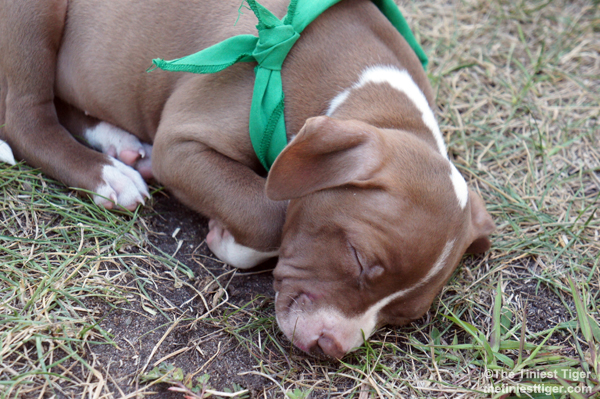 Nutrish for Cats engaged with attendees by asking them to fill in the blanks of fun cat themed speech bubbles. Our friends Angie, from CatLadyLand and author of Whiskerslist and Text From Mittens and her husband John were happy to join in the fun.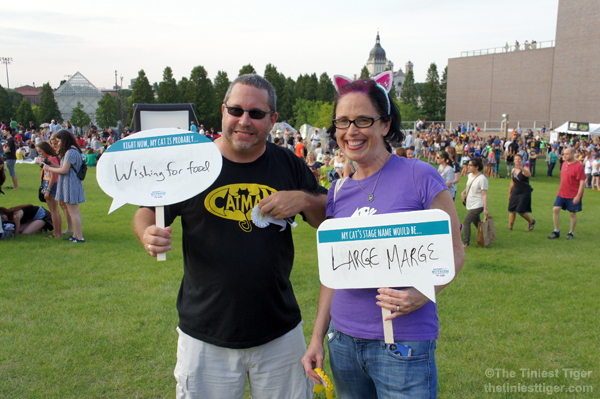 Live  music by Jack Klatt and the Cat Swingers entertained the crowd after 7:00 pm and until the reel was ready to go.   As the sun started to set, people began to take their places on blankets and lawn chairs to watch the main event.
It was  calm and quiet even though there was a crowd of over 10,000.  All eyes were on the big screen.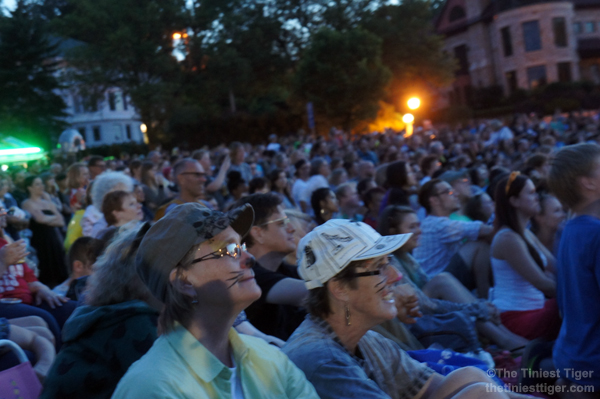 As darkness fell over the field, the reel came to its conclusion.  Another fun filled CatVidFest drew to a close and the crowd dispersed as calmly and quietly as they watched.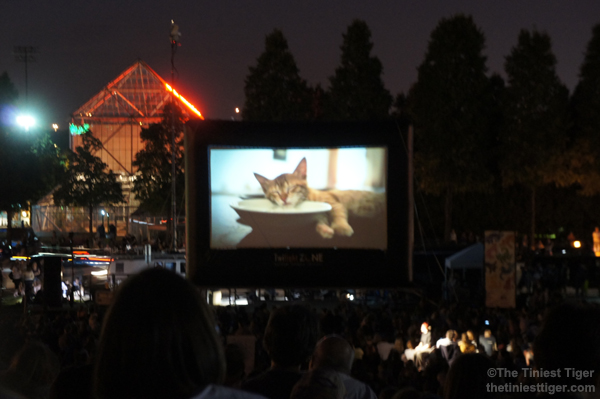 It was such a fun evening and I am grateful to Nutrish for allowing me to be a part of it.  If you would like to give Nutrish for cats a try, visit the Switch to Nutrish page for valuable coupons!
The Internet Cat Video Festival 2014 T-Shirt Giveaway!
One friend of The Tiniest Tiger will win this fun Internet Cat Video Festival 2014 T-shirt.  The shirt is 100% cotton and is a 2XL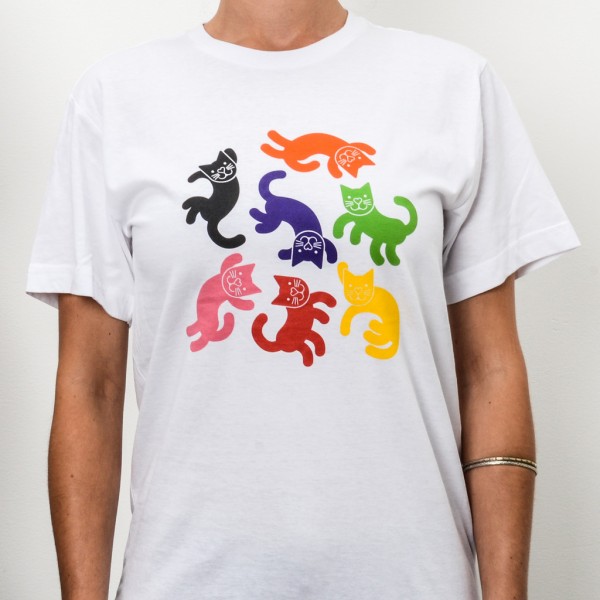 To Enter
Enter your information in the contest widget so we know where to ship your prize if you win. Tell us in a comment below which video is your favorite cat video.
The comment below this post is important. If your name is drawn and you didn't leave a comment, another winner will be chosen.
This giveaway is open to everyone!!