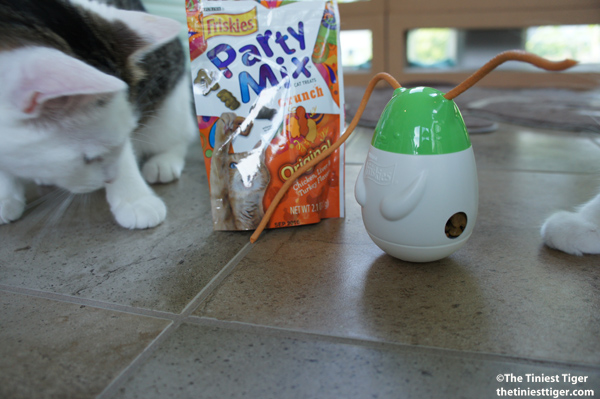 This post is sponsored by Friskies. We are being compensated for helping spread the word about Friskies #MostPlayfulCat contest but The Tiniest Tiger only shares information we think will be interesting to you.
Enter Your Cat in the #MostPlayfulCat Sweepstakes
Is your cat the most playful cat in America?  Why not enter a photo of your cat cat caught in action in the Friskies' Most Playful Cat in America Sweepstakes? Just upload a photo of your feline having fun on Twitter or Instagram and use the hashtag #MostPlayfulCat or enter at www.friskies.com/pullnplay for a chance for your cat to win the title of Friskies' Most Playful Cat in America!
The grand prize winner will receive $1,500 in cash a Wobbert cat toy and a one-year supply of Friskies Pull'n Play strings and treats.  Fifty first place winners will receive a one-year supply of Friskies Pull' n Play and a Wobbert cat toy.
Friskies Introduces Pull' n Play
Friskies is introducing Pull'nPlay, the latest innovation in cat snacks. It is a whole new way to treat and play with your cat.  The Pull' n Play Pack includes Wobbert the toy that you can fill with Friskies Party Mix and place the new edible spaghetti-like strands in the holes in the top of Wobbert's head.  This enables your cat to pull the toy over to disperse treats and encourage play. Pull' n Play will be available at retailers nationwide starting in mid-June 2015.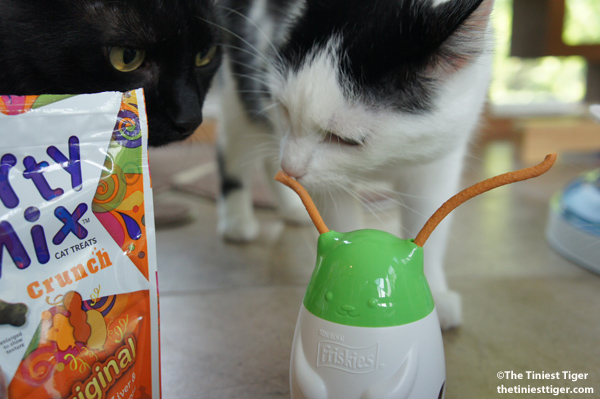 Annie, Eddie and Mercy all engaged in play with Wobbert.  They loved batting at the string treats and Eddie especially was interested in the treat dispenser.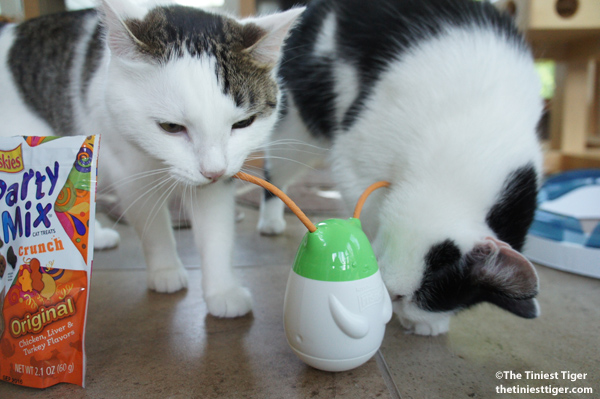 You might try Wobbert to help you capture that photo of your cat to enter into the #MostPlayfulCat in America contest!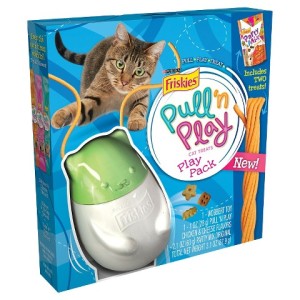 Friskies Will Make Donation to Cats in Need!
More incentive to enter is every time the #MostPlayfulCat is posted on social media from June 25th through July 2nd, Friskies will make a donation of one Pull' n Play package (up to 2,500). Once that goal is met, Friskies will make an additional donation of 2,500 Pull' n Play string pouches and 5,000 packages of Party Mix to cats in need.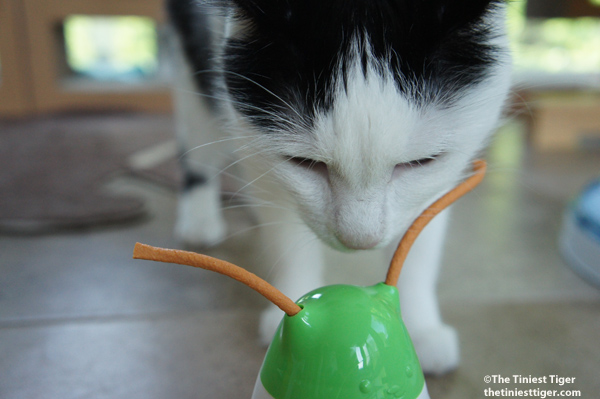 Friskies Playhouse Helps Cats Find Forever Homes
Friskies Pull' n Play and Petfinder will bring adoptable cats and prospective pet parents together through play at the Friskies Playhouse.  Open to the public from 11:00 a.m. to 3:00 p.m. ET on Friday, June 26 at Gansevoort Plaza at Gansevoort St. and 9th Avenue in New York City.
Pro football punter Steve Weatherford and one of America's most playful celebrity cats Waffles will be making an appearance at the event where guests at the Friskies Playhouse will have the opportunity to play with adoptable cats and kittens and will be able to challenge Weatherford in select games all for a good cause.
Guests will receive a Pull'n Play Pack for each activity they win, while supplies last. Friskies will also donate one package of Party Mix to shelter cats each time someone wins a game at the Friskies Playhouse.