Living With A Crazy Kitten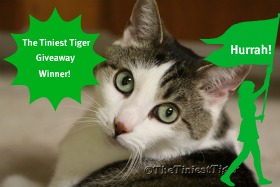 Congratulations to Sue B, our winner!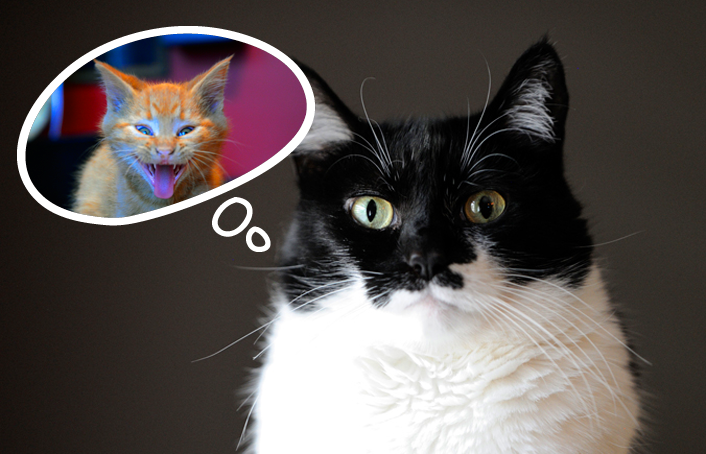 Hi everyone, Katie here.
Those of you that follow me on my blog, GLOGIRLY.com, know that my precious, peaceful townhouse fell under attack some nine months ago. I call it the Waffles Invasion. …and I'm not talking about breakfast.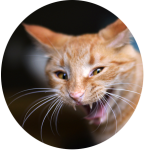 My girl, Glogirly, came home one day from the shelter with what appeared to be a carrier in tow. The contents: One small mass of orange fur, teeth and claws named Waffles. As much as I held onto the hope that is was all a bad dream, I eventually woke up and smelled the, well … Waffles.
My life would never be the same.
Living with a kitten-turned-teenager in what used to be a single-cat townhouse is tricky business. Fortunately for Glogirly, I'm incredibly smart for my seven years and I've been able to teach HER a few tricks along the way that keep the crazy kitten at bay.
Working Out With Wand Toys
I'm a simple cat. I don't ask for much. Yummy food, a little bird TV,  a place to scratch, poop and sleep.  Oh, and some peace and quiet, please.
Waffles doesn't understand the concept of peace and quiet. So in order to get him to leave me alone, it's important to maintain a regular exercise and fitness schedule. That's cat-speak for play therapy. And when it comes to play, wand toys rock.
At least once a day, Glogirly opens up the wand toy cabinet and grabs one of Waffles' favorites. It takes about 30-45 minutes of REALLY active play to wear him out. But after a few dozen 5′-high jumps and flips, after some quality stalking-the-prey play, she gets him so tired he doesn't have enough energy left to annoy me. Win-Win.
Glogirly knows he's gotten a good workout when he starts flopping down on his side and panting like a (gasp!) dog.
Catch Air Waffles on our GLOGIRLY YouTube Channel HERE.
Inside My Comfort Zone
The Townhouse isn't huge, but we do have three floors. One for sleeping, one for eating, playing & window whiffing, and one for well…. that's where the litter boxes live.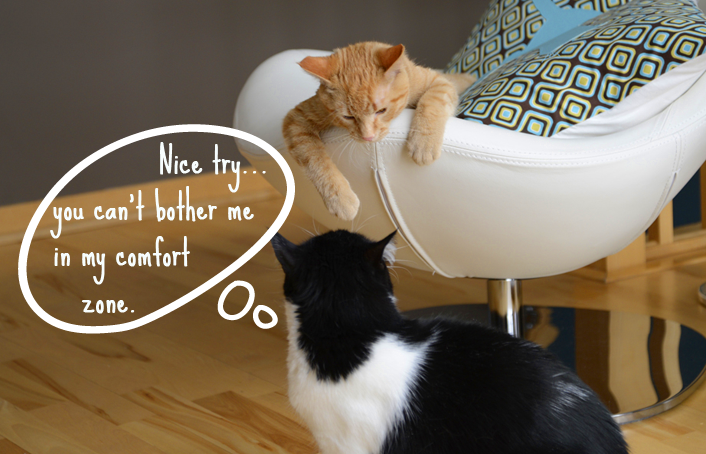 On every floor we have a Feliway Comfort Zone diffuser.  Glogirly says that it releases something that mimics a kitty's facial pheromones. Kind of like when I walk into a room and rub my face and mouth against the table leg to remind you it's mine.  It makes many of us kitties feel more calm, content and safe. Many vet clinics, ours included, use these diffusers inside their exam rooms and although they don't make it feel like a day at the spa, it's at least a little less stressful.
We noticed a difference within just a few days of using them. Our tussles and spats were not as "spirited" and Glogirly sensed that I, in particular, was more relaxed and easy-going.
When the diffusers ran out, we discovered that they really DO work. So we refilled them right away.
Spirit Essences To The Rescue
Who knew that a little bottle of spring water and flower essences could make all the difference. In fact when Glogirly first heard about these holistic remedies for animals, she was admittedly a skeptic.
But Waffles the teenage-mutant-ninja-kitten was still causing me more stress than I could handle sometimes. In fact…don't tell….but I started to over-groom one of my legs. After conferring with my vet, Glogirly decided to try a holistic approach to helping me as opposed to resorting to medication right off the bat.
We started using Stress Stopper Spirit Essences. She just puts a few drops in her hand and pets me with it. It feels just like water and evaporates before she's even done petting. Within only TWO days, she said I was like a changed kitty. I was more relaxed, more affectionate and less preoccupied with Waffles.
We still use it a couple of times a day and I'm happy to report that I have four full legs of fur.
Special thanks to our very smart and kitty-savvy friends who've helped and advised us through the Waffles Invasion:
Ingrid King, The Conscious Cat
Robin Olson, Covered in Cat Hair
Dr. Carolyn Karlin, Westgate Pet Clinic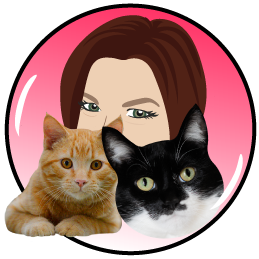 Waffles & Katie are the cats behind the hilarious, award-winning cat blog, GLOGIRLY – Tails Of Two Cats & Their Girl.  Follow their daily antics at GLOGIRLY.com.  Go ahead, laugh your fur off.
Visit their girl at GLOGIRLYDESIGN.com, whimsical & savvy graphic design for the blogosphere and beyond.
Stress Relief Giveaway Package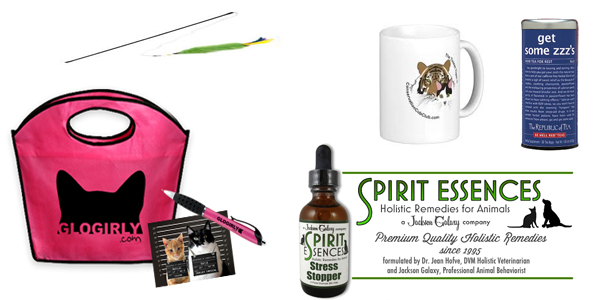 Pink GLOGIRLY Tote & Pen, Waffles and Katie Mugshot Postcard (frameable), Jackson Galaxy's Spirit Essences Stress Stopper,
Wand Toy, The Tiniest Tiger Mug and Get Some ZZZ's Tea from The Republic of Tea
To Enter:  
Go to Glogirly.com  Find the photo of Katie and come back and tell us in the comments below, what Katie says when she has had enough of Waffles.  Then tell us what your code word is when you reach your maximum stress level.  If you don't have a code word, what would you like  your word to be?
TWO CHANCES TO WIN!  You can enter to win by leaving a comment here on The Tiniest Tiger and you can enter to win by leaving a comment on GloGirly too!
The Rules:
This contest will end on September 13, 2013. Please one comment per person. I will enter all names in to Randomizer.com. The winner will be notified by email or through facebook depending on the contact information you provide. If you connect through facebook, check your Other messages not just your main messages.  Make sure you are watching for an email from us. The subject line will say Stress Relief Giveaway Winner  Void where prohibited by law.
Would you be so kind as to vote for The Tiniest Tiger's Snow Adventure in The Friskies?
It would mean so much to us for Gracey's video to win.  Thank you so much.

Related articles