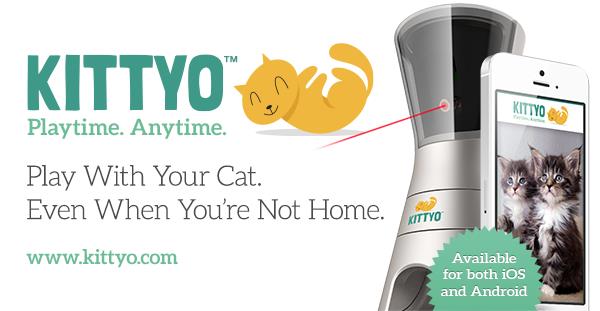 Kittyo™ Playtime. Anytime.
Kittyo is a new high-tech product that will allow cat parents to connect and interact with their feline companions even while they are away from home.  Lee Miller, Kittyo inventor said he came up with the idea while pet sitting a friend's cat.
"It just hit me; there's got to be a way to allow cat parents to interact with their cats while they're at work or on the road traveling," he said. "Cats are members of the family, so it's hard for cat parents to simply say goodbye for long periods of time, especially for the 55% of Americans who have more than one cat."
High-Tech But Easy To Operate
Although Kittyo is high-tech it is super easy to operate by apps on any iOS or Android-enabled smartphone.  Once the app connects with Kittyo, cat parents will be able to:
Attract the cat to Kittyo through sound or direct communication
View their cat via the embedded webcam
Record videos and take photos of the cat while at play
Enable the interactive laser pointer to add fun and exercise to the cat's day
Dispense treats

Great Design and Innovation
Kittyo is not only innovative but features a great design that will complement any home's interior.   Miller challenged  ION Product Development's Design Team to come up with a distinctive and iconic product design that would look terrific in any home.  Steven Bellofatto, Ion co-founder and product development lead said.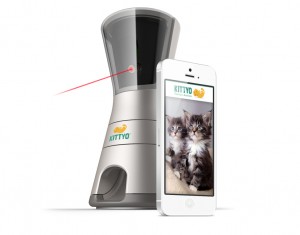 "Kittyo was an exciting opportunity to design a really fun product that incorporates a lot of cutting-edge technology including mobile connectivity."
Kittyo Will Be Worth the Wait
Kittyo is currently in pre-release development.  A Kickstarter campaign will begin in early 2014 to bring Kittyo to market, and cat parents can sign up at Kittyo.com to be updated about how to purchase Kittyo at an introductory discounted price.  You can also stay in touch with Kittyo news on Facebook and Twitter.
I think Kittyo might just be the thing to entertain Annie and keep her out of mischief when we need to be away from home.  What do you think?
This post is sponsored by KITTYO. We received compensation to share this preview of their new product with you. As always, our opinions are our own.