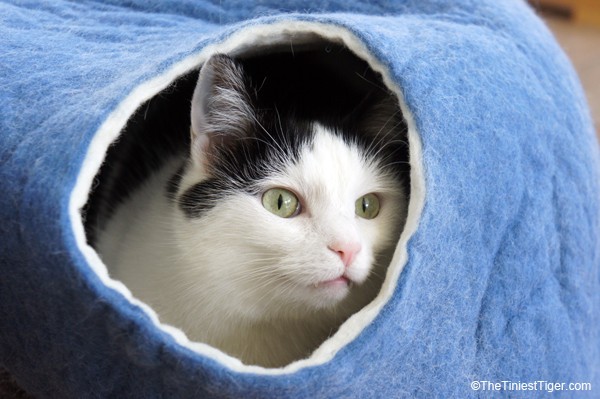 Eddie loves a cave. He will slip off and hide out in several cave-like places we have created for him throughout the house.  All cats need their own space and alone time and Eddie's preferred space is a cave.  One of his favorite caves is the Kivikis Cat House. The Kivikis Cat House is a modern designed from wool cat house-bed. Hand felted from natural, ecological wool.  This cat house is perfect for your cat to feel safe and snug while watching the action in the house or for a cat nap. . The bed  is soft and warm, so Eddie thinks your cat will be happy with this cat cave too!
Sometimes Annie tries to take over the cat cave.  We think Annie does this just to get to Eddie because she is more of a tree-dweller than a cave cat.  Don't worry, Eddie can be persistent at getting his way and it wasn't long until he reclaimed his cave.
Tucked safe back inside his cave, Eddie surveys his surroundings to make sure Annie and Mercy are not plotting a takeover.  Eddie loves his Kivikis cat house so much he wants to share one with a member of The Tiniest Tiger community.