Karl Lagerfeld's Cat Choupette Inspired Collection
Karl Lagerfeld has made it no secret that he is completely enamored of  his snow-white Siamese cat named Choupette.  And now just in time for the holidays, Lagerfeld has created a black and white collection inspired by Choupette.  The capsule collection includes a knit beanie with pointy ears and leather whiskers, keychain, scarf, side bag, iPhone and iPad cases, mittens and a large leather bag in the shape of a cat's heat that will set you back around $465. The collection will be exclusive to Karl Lagerfeld's Paris, Berlin, Munich, Amsterdam, Beijing, Shanghai and Antwerp stores.
Cats Are Cared For All Over Turkey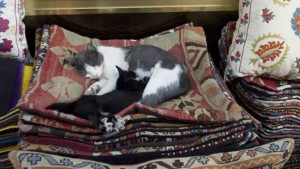 Jim Cornett is a desert biologist that recently returned from traveling the arid regions of Turkey.  Jim observed that during his travels around the cities in Turkey's Arabian Desert there were cats everywhere.  Fancy hotels were feeding cats in their lobbies, restaurants have one or two cats under most tables and even the mosques have cats. Jim stated that it seemed there were at least a dozen cats patrolling every street.
Restaurant and shop owners didn't seem to mind the cats hanging out either.  Jim noticed that tourists were feeding the cats from their tables in the restaurants. Once in awhile he saw a waiter gently move a cat aside to keep from stepping on it.  In the entire three weeks he never saw a starving cat nor witness anyone mistreating a cat.  He noticed that drivers carefully avoided cats and he didn't se a cat hit or killed by a car.
When he asked why the Turks are so accepting of cats he was told that the felines feed on mice and rats. So in their opinion, the cats deserve to be taken care of because they earn their keep.  Jim stated that not once did any member of his group see a mouse or a rat.