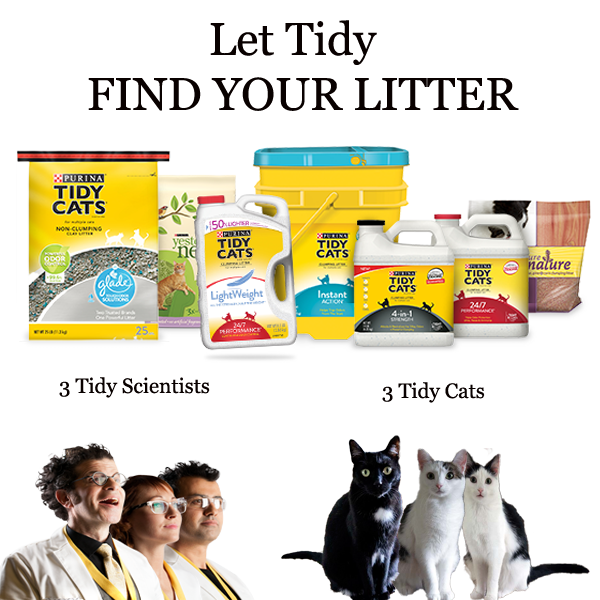 We are a member of the Tidy Cats Insiders and are being compensated to help spread the word about innovations and updates about Tidy Cats. The Tiniest Tiger only writes about topics that we think will also be of interest to you and all opinions are our own.
Which Tidy Cats Litter Is Your Match?
Finding the right litter isn't as easy as finding the litter pan!  With so many types of litter to choose from, you might feel overwhelmed standing in the retail store aisle contemplating the  litter selection.  You want the best little for your cat and you want the best litter for you too.  To clump or not to clump.  Instant stink killer or long term odor control.  Environmentally friendly, lightweight, scented, unscented…the list goes on.
Fortunately, the Tidy Cats Scientists  have been hard at work in the Tidy Lab creating a tool to help you decide which is your litter match. With input from the litter experts…the Tidy Cats themselves, this simple tool will enable you to find the best litter for you!
You simply answer a few questions.  Don't worry, there is no chemistry involved…but there is a bit of math.  You will need to count how many cats share your home.  Then you must answer honestly, if you scoop regularly (Team Clumping) or you choose to replace the litter after a week (Team Non-Clumping).
We are sure you will have no difficulty using the tool. If you are choosing your litter match,  you must be  smart enough to share your home with a cat or two so you are already whiskers above those who choose not to share their home with cats.
Your answers will not be leaked from  the Tidy Lab.  Nobody will know how you feel about green products or if you are obsessed with fragrance. The Tidy Cats will never tell!
The Let Tidy Find Your Litter Giveaway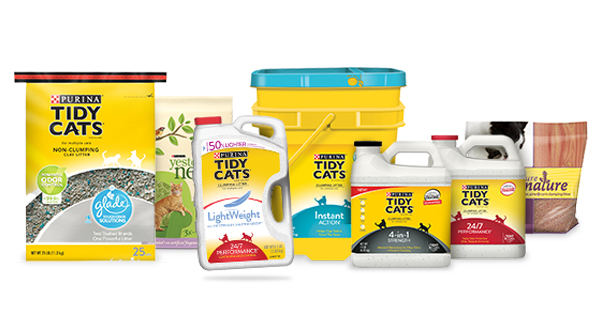 Three (3) members of The Tiniest Tiger community will receive  5 of  Your Litter  Match Tidy Cats full-sized packages courtesy of Tidy Cats. Your package will be shipped directly from Tidy Cats and may be one full-sized package and 4 coupons for Free Tidy Cats.
You have until 11:59 pm EST,  November 30, 2015 to enter.
How to Enter
Enter your information in the contest widget so we know where to ship your prize if you win.
Pounce on this link: FIND YOUR TIDY
Start and complete the Tidy Litter Selector.
Come back here and leave a comment below telling us: Which Tidy Cats Litter was your match?
This giveaway is open to USA addresses only.  Void where prohibited.
To Learn More about Tidy Cats Pounce Here: