Cats Investigate  The Litter-Robot
Litter-Robot sent us one of their new Litter-Robot III open-Air Units for Annie, Eddie and Mercy to try.  As soon as Paul got the Litter-Robot out of the box, three curious tails went running over to check it out. The Litter-Robot Open Air™ is an automatic, self-cleaning litter box. The patented sifting process automatically separates the waste from the clean litter 3-7 minutes after your cat exits and is deposited into a waste drawer for easy disposal.
This is super exciting for Paul because he is our chief scooper due to my allergy/asthma issues. Exciting for both of us to keep down the dust and tracking of litter through the house too!  And we have exciting news for you too!!
Litter-Robot is Giving Away 30  Litter-Robot III Open-Air Units This December!
Litter-Robot asked us to partner with them for the Litter-Robot 25 Days of Christmas.  Starting today, December 1 and every day though Christmas, you can enter to win a Litter-Robot III Open-Air unit.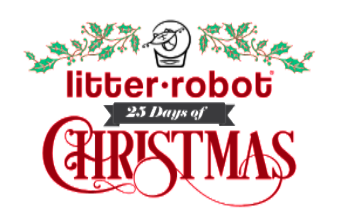 How To Enter the Litter-Robot III Giveaway!
If you would like a 30 chances to win a Litter-Robot for you and your cats, here is all you have to do.  Pounce here: http://bit.ly/FreeLitterRobot every day in December!
December 14 is The Tiniest Tiger Litter-Robot Giveaway Day!
Litter-Robot is giving away one unit each day from 12/1-12/24 and 6 units on 12/25! Make sure to stop back on December 14, that is The Tiniest Tiger's day to giveaway a Litter-Robot! Don't worry, we will post a reminder on our day!
Litter-Robot made this great graphic below with all the details so you will be sure not to miss a single day to enter.