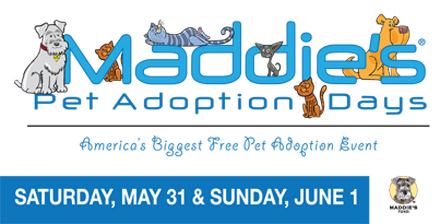 Maddie's Pet Adoption Days is the Biggest Free- to qualified homes- Adoption Event in America
Maddie's Pet Adoption Days will be taking place Saturday, May 31 & Sunday, June 1 in 9 states with 200 organizations participating!  The goal is to empty out  the shelters by finding loving forever homes for 10,000 cats and dogs.  All available pets have been spayed or neutered and vaccinated too!
Maddie's Pet Adoption Days is being presented in New York City by the Mayor's Alliance for NYC's animals.  The largest adoption venues in NYC will be the Petco at Union Square on May 31 and Union Square Park on June 1.
Maddie's Fund is a California-based family foundation, established in 1999 to help fund the creation of a no-kill nation.  In 2013, during Maddie's Fund Adoption Weekend, 8,342 pets were adopted nationwide! There were over 5,000 cats and 3,000 dogs that found their loving forever home!
Pets are Free to Qualified Homes
Pets are free to qualified homes. This means that the adoption standards are the same on Maddie's Pet Adoption Days as on any other day of the year.   In a survey from last year's event conducted by Maddie's Fund:
Over 50% of those who adopted said the waived fee was motivation to adopt
 

Coming out of last year's event, 99% said they would recommend adopting a shelter pet to friends, families and co-workers
 Reasons to Adopt from a Shelter or Rescue Group
 

Shelters and rescue groups know their animals' personalities and are great at matching pets with prospective owners.
Adopting from a shelter or rescue group reduces the

demand for puppy mills, which breed animals under cruel and painful conditions.
Shelters and rescue groups offer a w

ide variety of pure breeds and mixes.
Rescue pets have already been spayed/neutered, vaccinated, and often micro-chipped.

If You Would Like to Adopt a New Family Member
This is the Perfect Time!
New York Adopters can find more information here:  NY Adoption Locations
Adopters Outside of NYC can find more information here: http://Adopt.Maddiesfund.org
Annie and Eddie Were Adopted From Grayson County Humane Society.
We adopted Annie and Eddie from Grayson County Humane Society last June and as you know, they are very much loved and adored by us.  When we asked Donna at Grayson County about Annie's personality, she described her perfectly.  We wanted a cat with a a sweet personality but with a touch of mischief too.  And when we asked Donna if Annie had bonded with any other cats at the shelter, she introduced us to Eddie, who was sharing a cage with Annie.  The two cats are best friends and have really helped us heal our broken hearts from losing Gracey.  We had a home and Annie and Eddie needed a home and it has worked out perfectly.
Please Help Spread the Word About Maddie's Pet Adoption Days!
I hope you will share Maddie's Pet Adoption Days with anyone you know that is looking to share their heart and home with a new family memeber. Let's help empty out the shelters!
·       This post is sponsored by the Mayor's Alliance for NYC's Animals. I am being compensated for helping spread the word about the benefits and joys of pet ownership and the upcoming adoption event. All my opinions are my own.