Cat Token Struts into Stores
After winning an online voting campaign last February, Hasbro began rolling out the new Monopoly games with the cat token sometime in August. The cat takes the place of the old iron token beating out competition from the guitar, helicopter, robot and diamond ring. The cat token is of course stunning by design and will surely help anyone that chooses the token to become the top predator when playing the game.
Cats versus Dogs
Annie and Eddie being kittens, can barely remember a Monopoly game without a cat token. Of course there has been a dog token in the game since way before Tiki from dogtipper.com and Preston from PrestonSpeaks.com were born. In a game of Cats versus Dogs it looks like the dogs are going directly to jail and the cats are passing GO!
Preston and Tiki seems to have a good bit of cash but it looks like Annie has her paws on Boardwalk, the most expensive property, while Eddie guards the board. It might be too soon to call but I think this game will go to the cats.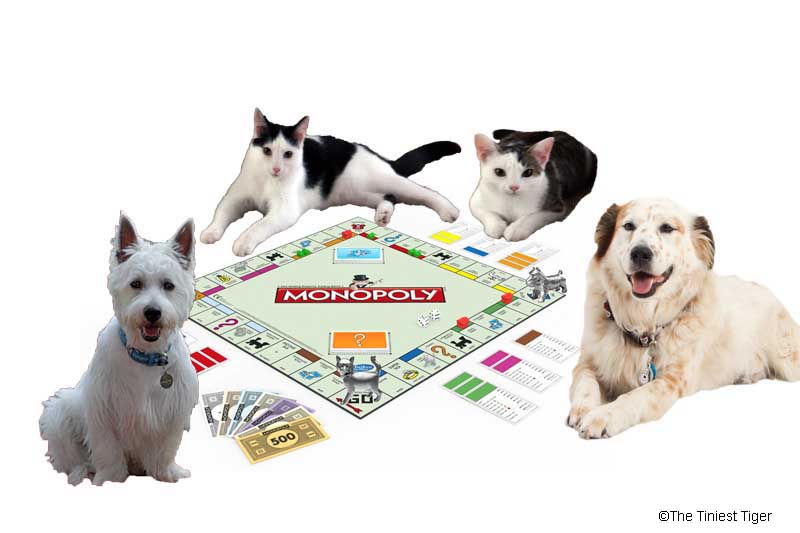 Monopoly with Cat Token Giveaway
We thought perhaps you would like to play Monopoly too so we are giving away one new Monopoly game that includes The Cat!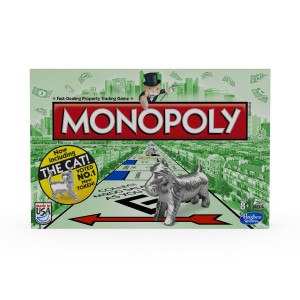 To Enter:
Enter your information in the contest widget and leave a comment below telling us whether you think Team Cat or Team Dog will win this game and your favorite Monopoly Token.
The Rules:
This contest will end on October 2, 2013. Please one comment per person. I will enter all names in to Randomizer.com. The winner will be notified by email or through facebook depending on the contact information you provide. If you connect through facebook, check your Other messages not just your main messages. Make sure you are watching for an email from us. The subject line will say Monopoly with Cat Token Giveaway Void where prohibited by law.