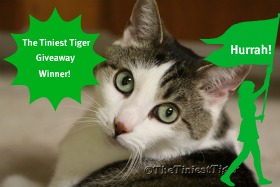 Congratulations to Abbi the winner of the MrChewy.com $25 Giveaway!

Mr. Chewy 's tag line is Delivering Pet Happiness and I can tell you that our  experience with Mr. Chewy's did in fact, deliver pet happiness to me, Gracey, The Tiniest Tiger and my parents.  We were contacted by Mr. Chewy to try out their online pet food and supplies delivery service.  I couldn't believe my luck when I read the email because you know that I get a little worried when my chow bowl gets low. I feel the most relaxed when the cupboard is full of my food. Mr. Chewy made it so easy to order that I was able to place my order without opposable thumbs!
The Mr. Chewy site is super user friendly, I mean even a dog could navigate through from first to last click. (No offense to my canine compadres)  You will find over 70 popular brands of cat and dog food, treats and supplies. You might find the prices to be less than in your retail store too.  And, the pet food that you order is delivered right to your door for FREE when you place an order for $49 or more. If your order is under $49 your order ships for only $4.95! That is less than it costs to send the parents out in the vehicles with a fancy "thinking beverage" to hunt in the retail jungle. The delivery right to your door  is super terrific because the bag of chow and the cans of food I ordered weighed more than me!
You can also set up your own delivery schedule to make sure that you never run out of food. There are no worries with the delivery schedule because you can make changes or cancel anytime. This is super appealing to me knowing that my chow bowl replenishment inventory will always arrive before my back up chow jar is even half empty. Super Hurrah!
Mr. Chewy's service is fantastic. His communication skills are stellar. I received an email confirming that my order had been placed and later that same day I received another email that my order had shipped! ~ The Same Day!~ The very next day my mom was working in the office when the Fed Ex man pulled into the driveway. I made sure that Bad Kitty didn't scare him this time. 😉 She looked at me and said I wonder what we are getting today.  I of course tried to look as puzzled as she did.
I stood back and waited while she brought the box into the kitchen.  I couldn't believe my eyes when she opened the box and it was my Mr. Chewy order!  The box was packed very well, and my food arrived in perfect condition.  My mom looked at me with her "Gracey Lou" face but I blinked back at her with my "You see how thoughtful I am" face. Both my mom and I were completely happy with Mr. Chewy's service.
You can also read about  Mr. Chewy from our Westie friend Preston from Preston Speaks.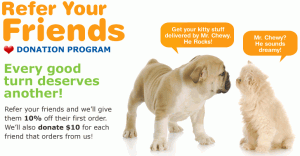 Mr. Chewy also has a donation program that helps our cousins in need.   When you place an order you can set up a special account where you can refer your friends and family to Mr. Chewy. When their first order is placed, they get 10% off and Mr. Chewy will donate $10.00 to one of the special animal charities.
I already set up the charity donation code for The Tiniest Tiger. If you place an order with Mr. Chewy and use the code JOAN8271 during check out you will receive 10% off your order and Mr. Chewy will donate $10.00 to the animal charities.  I set ours up to split the money raised between the three organizations; Best Friends Animal Society, bidawee, and North Shore Animal League.
I wanted you to be able to try out Mr. Chewy too!
One friend of The Tiniest Tiger will receive $25 in free food and/or supplies  to try out the Mr. Chewy site.
Here is all you have to do:
Tell me in the comments below this post, what you would buy from the Mr. Chewy site. Pounce here: www.mrchewy.com Super easy.
The Rules:
This contest is now closed.  The winner has been chosen and notified.
This giveaway is open to US residents( sorry about that) and will end on January 21, 2012 at Noon Eastern.  The winner will be chosen at random using  a random number generator from all eligible entries. The winner will be notified via e-mail and will have three days to reply or a new winner will be chosen. You must respond back to me to receive your gift code. After you respond the gift code will be sent via e-mail.
If you connect through Facebook, make sure you are stalking your Messages including the elusive Other that lurks below the Messages.  Sometimes important messages are sent to the Other box.
We received a code for free product for this review. There was no financial compensation. The opinions expressed are our own.