Happy Valentine's Day
I hope you are having a happy Valentine's day. It has been a bitter cold day outside our home but on the inside, we are all warm, safe and grateful. Today while Paul made soup for dinner I took lots of photos of Annie, Eddie and Mercy. It takes a lot of shots to get a few good ones that we are able to use. Eddie is the most cooperative. He sits patiently while I ask him to look at me. When I say, "Ok, Eddie! Good job!" He takes off in a full sprint.
Since this is Valentine's Day, I thought about how Eddie has a little heart on his leg.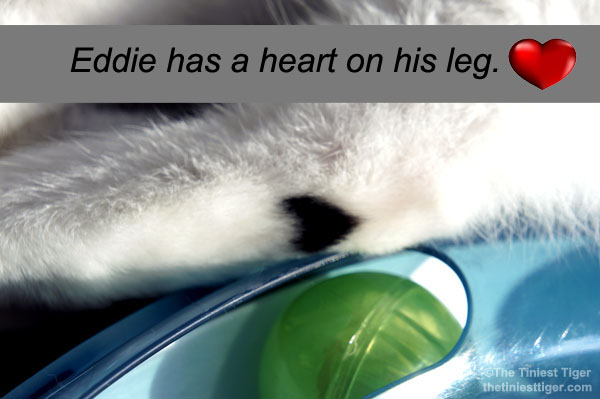 Isn't that the cutest little heart? And he is the sweetest little cat. I am feeling especially honored today because I have been given the duty of being his Little Lion's Guardian. Eddie dropped off his Little Lion beside me at my desk chair and he has entrusted me to keep the little guy safe all day. That warmed my heart today.
Mercy is such a sweet guy. He sleeps with Paul's mom and keeps an eye on her all day. He now plays with both Annie and Eddie but his heart belongs to Paul's mom. Here is a photo of Paul's mom and Mercy. Seeing them together warmed my heart today too.
Annie has really become my buddy. She follows me around when I walk through the house. She sits beside me while I work at my desk. In full disclosure, sometimes when the fireplace is working, she abandons me for the glow and warmth of the fire. In the evening, she has started to come and get me to play. This is something Gracey used to do too. Today when I was taking photos, I took this one of Annie.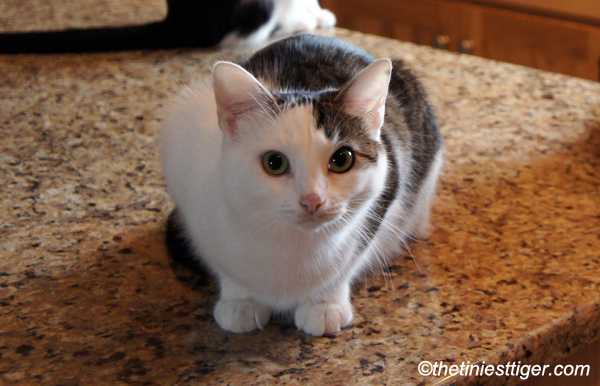 I told Paul I got the best photo of Annie. This is a big deal for us because Annie does not sit still for photos. But today, she was an excellent little model. Not only did she sit still for this photo but she allowed me to take photos of her with some of the new handbags coming soon to Triple T Studios. Typically, I need to set the camera on sports mode and shoot rapid fire hoping for a usable photo of Annie. But not today, she actually posed for me.
I think this photo really captures Annie's personality. Sh is a bundle of love and energy. You can see how smart she is too in this photo, can't you? But there was something more to this particular photo that touched my heart. And then I realized that this photo is very similar to one of my favorite photos of Gracey.
At first, I felt sad but then I looked at our sweet Annie's little face. She walked over to me, gave me a nose tap and a head bunt and brought back my feeling of happiness. Gracey will always be My Heart Cat, but there is enough room for Annie too. This warms my heart.
As I write this, Annie is rubbing up against my legs and chirping. It is that time of day. Time to wrap up in here and spend some cuddle time with my girl. Paul is already on the sofa with Eddie and Paul's mom and Mercy are sleeping soundly under the warmth of an electric blanket.
Thank you for stopping by. Happy Valentine's Day.
The My Heart Cat Necklace Giveaway
In honor of our heart cats, we are giving away two of our My Heart Cat Necklaces. When I saw this beautiful necklace, I thought about our Gracey. Now that she lives in my heart, I thought this necklace was a perfect reminder that love lasts and lives on in our hearts.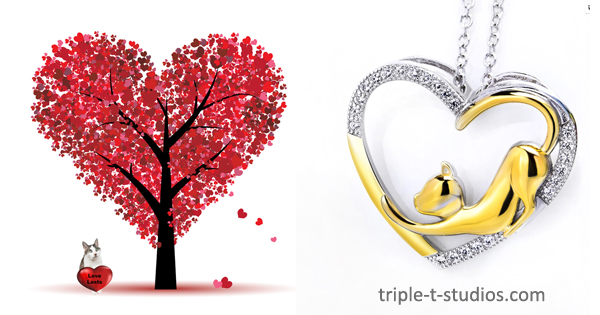 Two members of The Tiniest Tiger community will win a My Heart Cat necklace from Triple T Studios.
If you can't wait and would like to get your own cat jewelry for you or for a gift pounce here: Triple T Studios
How to Enter
Enter your information in the contest widget so we know where to ship your prize if you win.
Leave a comment below this post telling us about your Heart Cat.