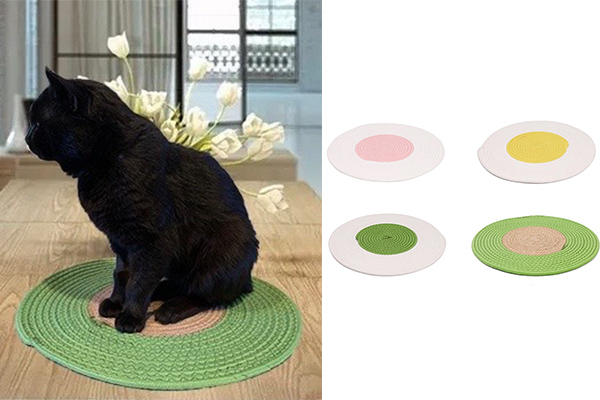 Cat place Mat
Did you ever think your cat needs their own cat place mat? Sometimes while working at my desk, one of the cats will decide to either sit on my keyboard or keep sweeping their tail across the keyboard. I don't think I am the only one that has this happen.
Paul and I have round green placemats that we love. They look happy and bright with our white plates during meal time. Recently, Annie especially, has taken to sitting on the placemats as soon as we put them down. She can't seem to resist. When Paul caught Annie scooching her bottom across his placemat, he insisted we solve this problem.
We thought these fun round cotton rope cat place mats might solve the problem. They are made from the same cotton material as our popular cat rope beds. As soon as we put the green and sisal cat place mat down, Bob moved right onto the mat as if on cue. (We will update you on Bob later.)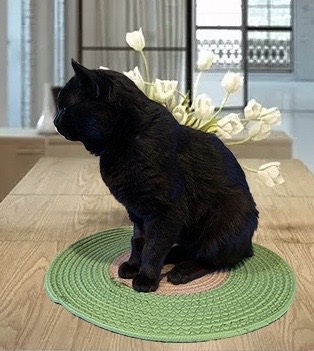 Small enough to be cozy but big enough to lounge upon. The cotton rope design is sturdy and will hold up to cat scratching. The cat mat is 15 inches in diameter and about .5″ thick. Available in four color combos.
CAT MAT AVAILABLE IN:
Green and White
Pink and White
Yellow and White (We thought about calling this sunny side up.)
Green and Sisal (Bob is sitting on the Green and Sisal)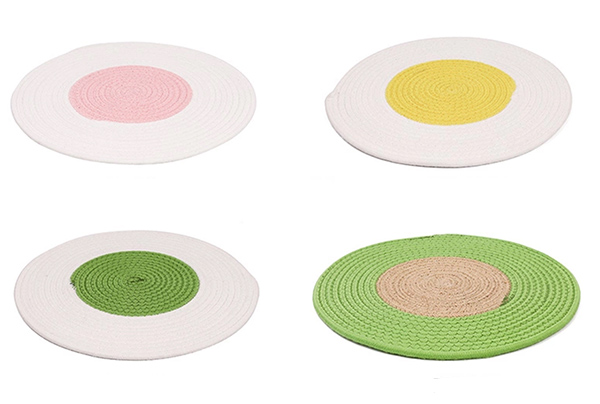 One member of The Tiniest Tiger community will receive their color choice of the new Cotton Rope Cat Mat. You can choose, Green and Sisal, Green and White, Yellow and White or Pink and White.
How to enter the giveaway
Enter your information in the contest widget so we know where to ship your package. If you are reading this post in your email you might need to click through to enter the giveaway. Pounce here!
Let us know in the comment section below which color you will choose and where you need a cat place mat to help your cat find the purrfect place to sit.
If you can't wait, you can grab a cat place mat at Triple T Studios.