New! Cat sleeping BagS
The cat sleeping bag idea came from watching Annie and Eddie tuck themselves inside or under a blanket. Annie loves to make biscuits almost every time she settles down for a nap. These new cat beds provide a place for cats to rest in a soft and protected space. Your kitty can decide to nap tucked inside or on top of the pillow soft sleeping bag. The pillow feel of the cat bed is biscuit making friendly with enough loft and and softness for those little paws to get to work.
Three Feline Fun Designs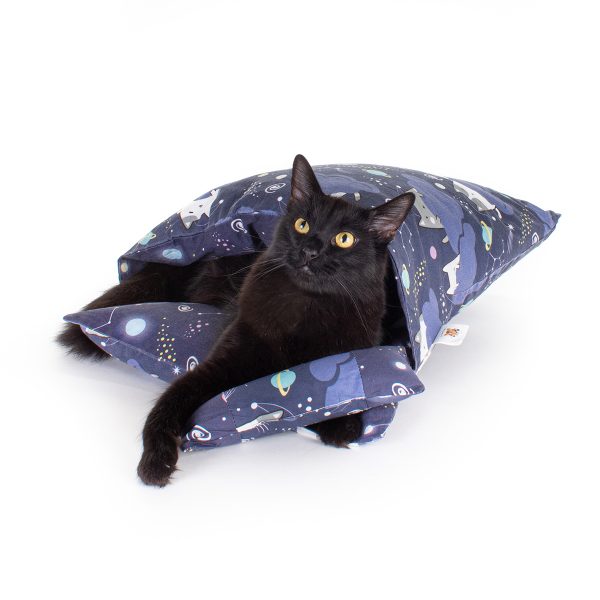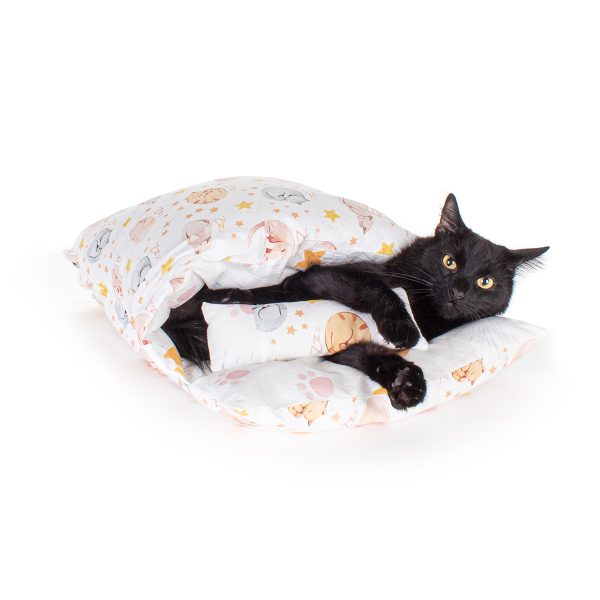 The cat sleeping bag comes in three feline fun designs.
Meow Dreams. Features pink and green kitty faces with MEOW and cat paws scattered throughout. The inside has a pretty green paw pattern.
Space Kitty. Features a dark blue background with cats in spaceships and small planets and start scattered throughout. The inside has a fun star and planet pattern.
Cat Napping. Features a light background with orange, grey, and cream curled up sleeping kitties with small stars and a Zzzz pattern. The inside has a shooting star and paw pattern.
Oh, and each sleeping bag comes with an adorable matching pillow.
The Details
This cat bed measures 20″ x 17″ and is made from a 70% cotton, 30% poly blend fabric. A zipper allows for easy cover removal for machine washing. There are 2 pillow inserts making the sleeping bag fluffy and comfortable. Lightweight, this perfect resting place can be moved anywhere kitty likes to sleep.
The Cat Sleeping Bag Giveaway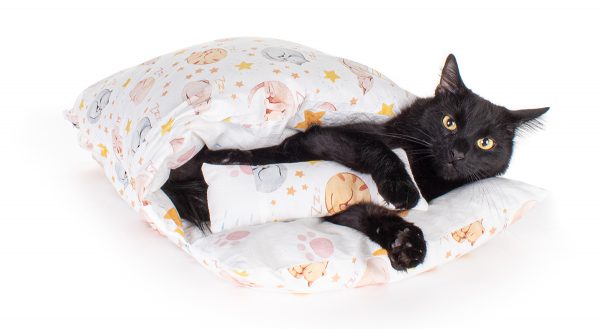 One member of The Tiniest Tiger community will receive their choice of Space Kitty, Cat Napping or Meow Dreams.
HOW TO ENTER
Enter your information in the contest widget so we know where to ship your package. If you are reading this in your email, you might need to click through to enter the giveaway. Pounce here: Cat Sleeping Bag Giveaway
Please let us know in the comment section below which design you will choose.
Meow Dreams
Space Kitty
Cat Napping
If you can't wait to get your cat their own sleeping bag, and save 25% with your TTT community discount, pounce here: Triple T Studios.