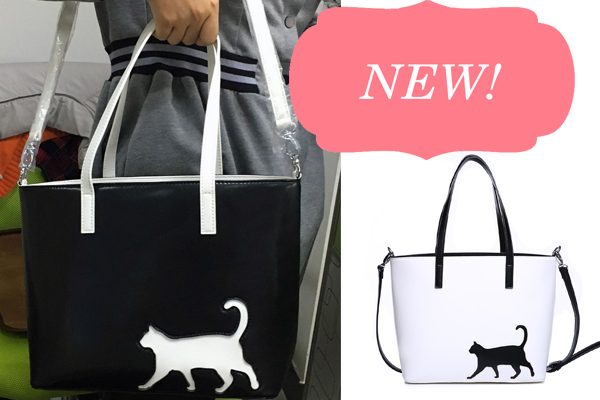 Triple T Studios Cat Walk Tote is one of our most popular!
The Triple T Studios Cat Walk Tote features a happy cat walking with their tail up and curled!  The back of the tote features a whimsical trail of cat paws creating a pretty pattern across the bag.  The cat and the cat paws are carefully stitched in place. We added a hidden magnetic snap closure instead of a zipper for a more streamlined look.
The original Winter White with black cat and cat paws, black trim inside top and  black shoulder straps includes an additional detachable cross-body strap. The vegan-friendly tote has a softer hand-feel that you are sure to love.  The bottom of the new tote features our signature design patent-pending cat paw protective feet.
Behind the scenes with Kate Benjamin
The Winter White Cat Walk Tote is a favorite of our friend Kate from
Hauspanther.
Kate makes being a cat lady cool! Check out Kate in this video shoot for Phoenix Magazine.  Look close and you might see the Cat Walk Tote too.
 The Cat Walk Tote is one of our most popular!  And now by request, The Cat Walk Tote is available in Black with White Cat and Paws.
The New Cat Walk Tote Giveaway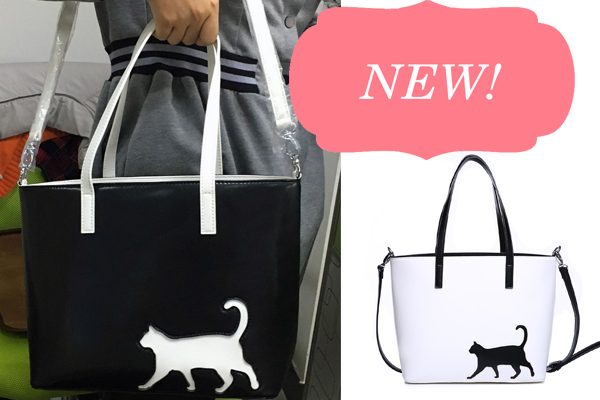 One member of The Tiniest Tiger community will receive their choice of the new Black Cat Walk Tote or the original White Cat Walk Tote from Triple T Studios.
If you can't wait, you can learn more about the Cat Walk Totes pounce here: Fashion With a Passion®
How to Enter
Enter your information in the contest widget so we know where to ship your prize if you win.
Let us know in the comment section below:   What do you like the most about the new Cat Walk Tote?  Will you choose the new black or the original white Cat Walk Tote?
This giveaway is open to everyone!  Void Where Prohibited