We are a member of the Tidy Cats Insiders and are being compensated to help spread the word about innovations and updates about Tidy Cats. The Tiniest Tiger only writes about topics that we think will also be of interest to you and all opinions are our own.
NEW! Tidy Cats Free & Clean™
Tidy Cats Free & Clean™ is Tidy's  first unscented litter! Eddie and I are both super happy about this new unscented litter that is powered with activated charcoal instead of fragrance.
Tidy Cats sent us several jugs of the new Free & Clean™ Unscented litter to try and we could not be happier. We love walking by the litter pan area and not smelling anything! This new litter has the Guaranteed TidyLock technology too offering the most odor control possible. The formula is 99.9% dust-free too which is great for our little kicker Eddie who could create a dust storm every time he goes to the box otherwise. This is the cat litter of choice for us now!
Activated Charcoal Power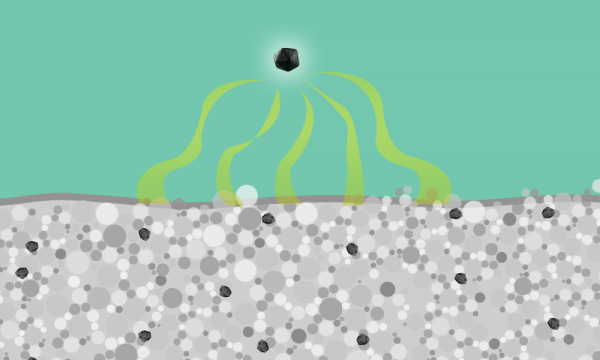 Eddie and I both have allergies and scented litters make us both sneeze and me wheeze.  Tidy's activated charcoal is made from coconut shells that have been treated with high-pressure heat and steam, which created millions of tiny surface pores that "activate" its amazing odor-absorbing ability. And, coconut shells provide a cleaner and durable form of charcoal so it doesn't leave any dust or black residue behind.
These pores in the charcoal create space to trap odor molecules.  In fact, one pound of activated charcoal has the stink-sucking surface area of 75 football fields! What a relief to have this activated charcoal sucking up the odor from your cats litter boxes.
Free of Fragrances, Free of Dyes, Free of Compromise
The activated charcoal enables the litter to be free of fragrances and free of dyes. Tidy's Free & Clean has the same ability to form tight, scoopable clumps. This litter has everything you want and nothing you don't. The Free & Clean comes in regular clumping and LightWeight clumping formulas and is available at Petco, Target, Amazon.com and Chewy.com.
The New! Tidy Cats Free & Clean Unscented Giveaway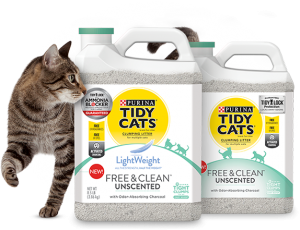 One member of The Tiniest Tiger community will receive a coupon for a free Tidy Cats Free & Clean Unscented Litter.
While you are waiting to see if you are the lucky winner, you can save $2.00  to try the new Tidy Cats Free & Clean.
$2 Coupon for Tidy Cats Free & Clean Unscented Litter.
To learn more about Tidy Cats Free & Clean Unscented and print out a coupon to save $2.00  pounce here: Tidy Cats Free & Clean $2 Coupon
How to Enter
Enter your information in the contest widget so we know where to ship your prize if you win.
Let us know in the comment section below:  Why do you want to try the new Tidy Cats Free & Clean Unscented Litter?
Giveaway is open to USA residents! Void where prohibited.