Friends, I am so sorry to tell you that our cousin Billy crossed the Rainbow Bridge last night, 8/9/11.
Thank you for your support and love of Billy. He fought very hard and his parents did every thing they could to help him. Rest in peace sweet Billy knowing that you are loved. Our thoughts and prayers are with you and your family.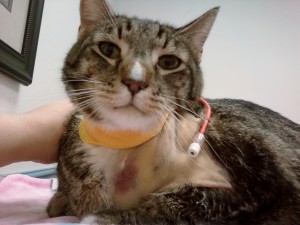 Friends,
I received this email just a few minutes ago and I wanted to share it with you.  If you are able, could you please help Billy's parents?  Here is the letter.
"Hello, my name is Sophia Smukalla.  My baby Billy Smukalla wanted me to write to you to ask if you could help pass on the word to your friends to help him.  This is what he had to say to Gracey.
Hello, my name is Billy.  I am fighting for my life right now at Grand Montecito Animal Hospital.  My Vets name is Dr. Lewis.  He is the best doctor in the world.  he is doing everything he can to save my life.  He says i have an infection in my liver causing my bilirubin levels to be  at deadly levels.  I have had an operation to put a feeding tube in my neck because i cant eat on my own.  i am also on lifesaving fluids & medications.  I am trying my best to heal as quickly as i can.  my mommy and daddy are so worried about me.  they come to visit me every single day.  mommy came to see me yesterday and held me for 3 hours.  i was so happy to see her.  mommy and daddy need your help to help them with my vet bill.  its growing by at least $200 every day I am in the hospital.  mommy cant work because she is disabled and daddy is in school full time so he can learn about air conditioning repairs so he can provide for our happy family  better in the future.  please help as much as you can.
You can call my vets office directly to help.  Just let them know that you want to put some money toward Billy Smukalla's vet bill & they can help you out.  🙂
Grand Montecito Animal Hospital
6325 Grand Montecito Parkway
Las Vegas, NV 89129
Phone: (702) 656-1115
Fax: (702) 656-4147
That was an article from Billys blog at www.beefcakebilly.blogspot.com I am trying to get the word out so maybe some nice people can help us.  I was hoping you could post a link to billys blog on your page so all your nice animal lovers could see.  We really need your help.  you have so many nice friends who can also help spread the word as well."
As you can see, Sophia has given the  name of the Grand Montecito Animal Hospital so that you will know that your money is going to help Billy.   I know how tough it is to be in the hospital from my pancreatitis and my diabetes. Thank you for uniting our small paws to make a difference.