Rachael Ray's Dinner for You and Your Cat
Our friends from Rachael Ray's Nutrish for Cats sent us a Dinner for Two package. Right away, Annie was interested in finding out what was inside the brown paper bag.
Both Annie and I were happy to find not only Nutrish for Cats but also two great recipes straight from Rachael Ray's kitchen for Paul and me too.  We chose to prepare the Teriyaki Chicken with Brown Whole Grain Rice for our dinner and selected the Real Chicken & Brown Rice Recipe with an appetizer of Ocean Fish & Chicken Catch-iatore for Annie, Eddie and Mercy.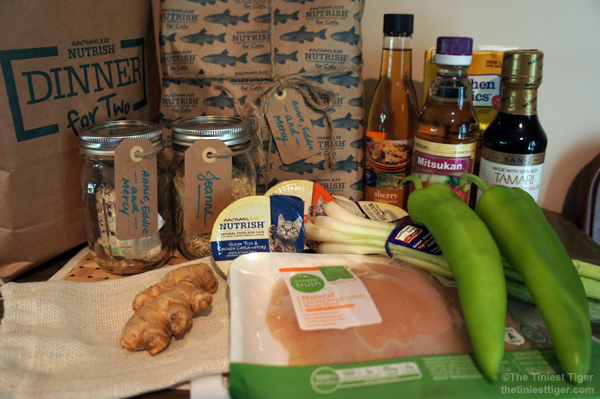 Both our meal and the cats meal are made with simple wholesome ingredients.  Rachael Ray's Nutrish for Cats foods are made with real meat like chicken or fish and the high quality protein is always the first ingredient. There are no artificial flavors or preservatives and no meat by-products.
Since Rachael Ray Nutrish launched in 2008, proceeds from sales have raised more than $6 million for Rachael's Rescue, which helps animals in need.  Your cats will love the  taste and you will love the good work Nutrish is doing to help rescue animals.
If you would like to try Nutrish for Cats pounce on the link to get a $2.00 off coupon for the Natural Dry Cat Food and a Buy 2, Get 1 Free coupon for the Natural Wet Cat Food.
Click here:  Rachael Ray Nutrish for Cats Coupons.
Dinner Preparation Time
Dinner time preparations began, and I gathered our serving dish, cutlery, dishes and the cats' dishes too.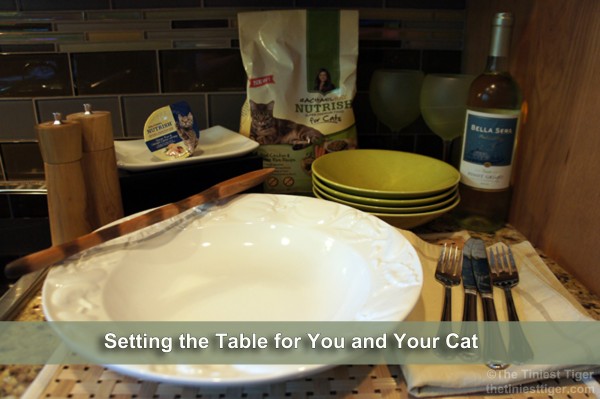 Cook and Cats in the Kitchen
When I began to cook the sauce, it smelled wonderful!  It wasn't long until not only were Annie, Eddie and Mercy supervising my cooking, but Paul came into the kitchen and said something smells great!
Annie was super interested in the chicken preparation.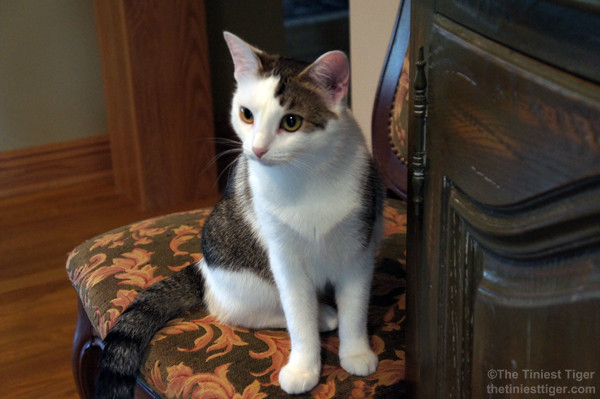 Mercy kept moving a little closer too.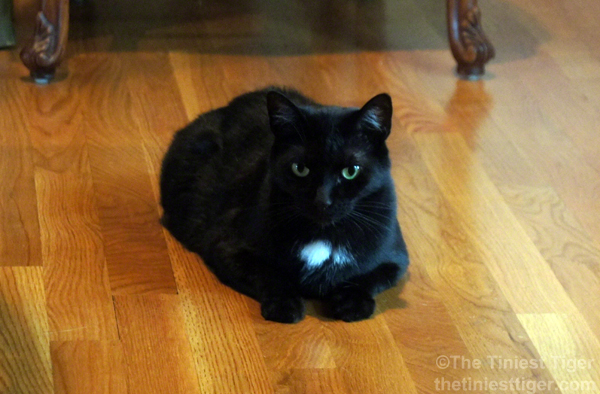 But it was Eddie that was first to pounce when dinner was served.

It didn't take Mercy long to join Eddie at the dish.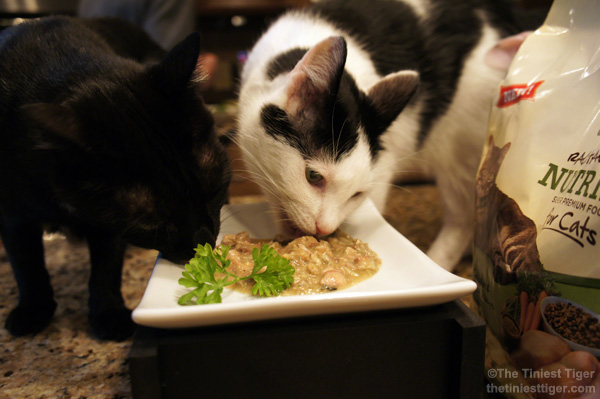 After all three cats were full and happy it was time for their after dinner entertainment.  Annie was the first to play with the Cosmic Cat Big Ol Catnip Sack that our friends from Nutrish sent in the gift bag while Eddie and Mercy attacked the paper bag.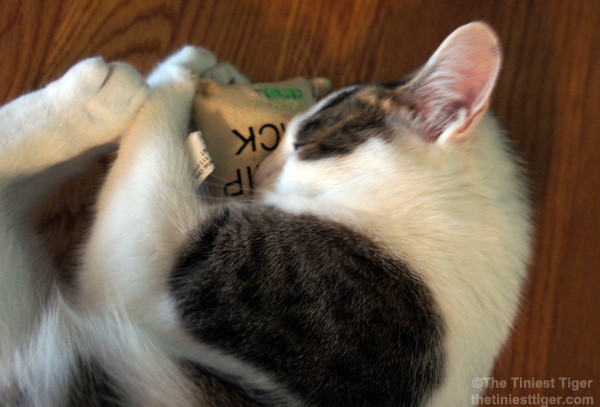 Then it was our turn to enjoy the Teriyaki Chicken with  Brown Whole Grain  Rice we prepared for our dinner.  The recipe is delicious and I am sharing it with you here.
From the Kitchen of Rachael Ray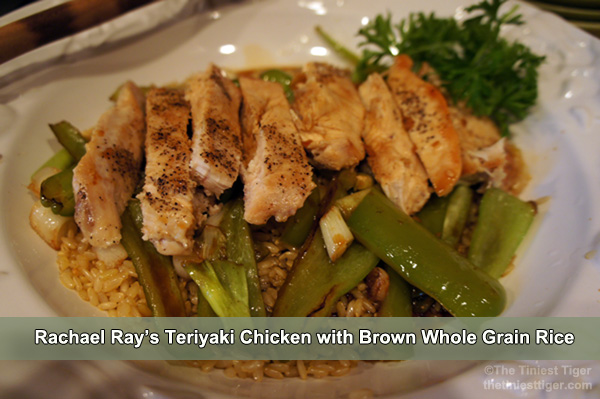 Ingredients
For the rice:
1 1/2 cups chicken stock
1 tablespoon butter
1 cup brown whole grain rice
For the sauce:
1 cup chicken stock
About 1/3 cup Tamari or soy sauce
About 3 Tablespoons Mirin (rice wine)
About 3 Tablespoons dry sherry
About 2 Tablespoons Worcestershire sauce
3 Tablespoons sugar
2 thin slices fresh ginger root
1 large clove garlic, crushed.
For the chicken:
2 Tablespoons high-temperature cooking oil such as peanut or canola
4 boneless, skinless chicken breasts
Sea salt and coarse black pepper
2 mild frying peppers, such as cubanelle or Anaheim, seeded and cut into thin strips.
1 bunch scallions, cut into 2 inch pieces.
Preparation
In a small pot, bring the stock and butter to low boil. Stir in the rice and cover; reduce the heat to a low simmer and cook according to the package directions.
Place the sauce ingredients in another small pot and bring to a boil. Let reduce by about half, 15 minutes at medium heat, at a low boil.
Add about 2 tablespoons cooking oil to a skillet and heat over medium-high heat. Season the chicken with light salt and pepper to your liking. Cook for 8-9 minutes, turning occasionally; remove.  Add the peppers and stir for 2-3 minutes, but let them remain tender-crisp. Add the scallions and toss for 1 minutes more; remove from the heat.
Slice the chicken across the breasts into 1/2 inch thick pieces.
Arrange the rice on plates or in shallow bowls and top with the peppers, scallions and chicken.  Drizzle the sauce evenly over the chicken and rice, then serve.
The Nutrish for Cats Giveaway
One member of The Tiniest Tiger community will win a  Nutrish Prize Package that will include a bag of new Nutrish for Cats and a sampling of Nutrish for Cats wet food. This giveaway is open to residents of the USA due to the prize containing food.  Sorry about that.
To Enter:
Enter your information in the contest widget so we know where to ship your prize if you win. Tell us in a comment below if you were cooking for you and your cat would you prefer to cook the salmon or chicken recipe.
The comment below this post is important. If your name is drawn and you didn't leave a comment, another winner will be chosen.
This contest will end on July 27, 2014.  Void where prohibited by law.
This post is sponsored by Rachael Ray Nutrish. All thoughts and opinions are our own. As always, thank you for reading and supporting our sponsors.