The Imperial Cat Adopt-A-Cat Program:
In celebration of the last day of Adopt-A-Cat Month our friends at Imperial Cat wanted to help support cats that are waiting for their forever homes by donating a box of Scratch ' n Bits to your favorite cat shelter. You can see in the photo above that Annie and Eddie had a scratcher in their cage while they waited for their forever home.
Imperial Cat's shelter donation program is an easy way for cat parents to give back to your favorite rescue organization. You can go online and order a selection of Imperial Cat's Scratch 'n Bits corrugated scratchers or a box of Cat 'n Around catnip toys to be donated to a shelter or rescue of your choice.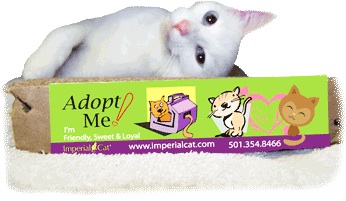 The Scratch n' Bits "Adopt Me" Kits
The Scratch 'n Bits kits are scratching pads that are available in three sizes that are perfect for use in shelter cages, cat rooms or foster homes. Scratching allows cats to stretch and tone their muscles & helps alleviate stress. The cute "Adopt Me" scratchers help promote adoption.
Cat 'n Around Toys cater to a cat's playful side and provide hours of fun. Made from durable, long lasting materials and stuffed with premium organic catnip, these clever toys are priced well below retail and are a great way to keep shelter cats stimulated and active.
The Humane Society of the United States estimates that there are 6 to 8 million pets that enter shelters each year. With your help, Imperial Cat wants to encourage adoption and help these deserving pets get adopted into a loving home.
For more information or to donate a Scratch 'n Bits or Cat 'n Around package today, pounce here: Donation Program for Shelters & Rescues

The Scratch n' Bits For Your Favorite Cat Shelter Giveaway!
One friend of The Tiniest Tiger will win a box of Scratch n' Bits to be donated to the cat shelter of their choice. This giveaway is open to residents of the USA due to shipping. Sorry about that. But you can still enter and if you win, you can have the toy shipped to a friend or shelter of your choice.
To Enter:
Enter your information in the contest widget so we know where to ship your prize if you win. There might be a surprise prize for you too! Tell us in a comment below the Name and Address of your favorite cat shelter.
The comment below this post is important. If your name is drawn and you didn't leave a comment, another winner will be chosen.
The Rules:
This contest will end on July 14, 2014. Please one comment per person. Winner is chosen by Randomizer.com. The winner will be notified by email or through facebook depending on the contact information you provide. If you connect through facebook, check your Other messages not just your main messages. Make sure you are watching for an email from us. The subject line will say Scratch n' Bits Donation Winner. Void where prohibited by law.