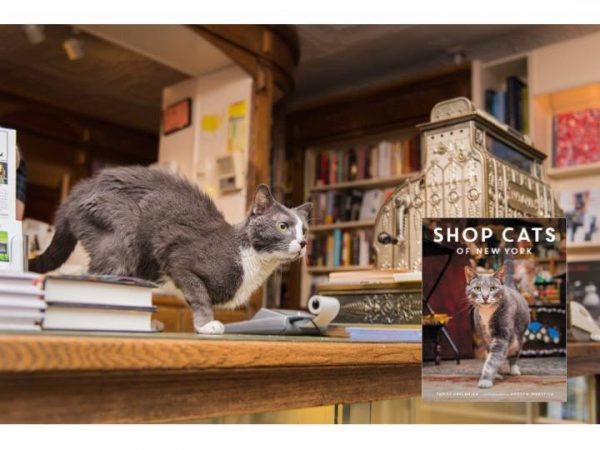 Tamar Arslanian's Shop Cats of New York
You might know our friend Tamar Arslanian from her blog IHaveCat.com – "Single in the City with Cat(s)" where she writes about the life she shares in NYC with her cats.  We are so excited for Tamar's first book Shop Cats of New York
 (Amazon Affilitate) published by Harper Design. One day in the shower, Tamar thought about all the shop cats that she meets while shopping in her city and wondered how they became a shop cat.
Shop Cats of New York introduces you to 40 of New York City's  felines that perch on wine crates, books in the Algonquin Hotel, bodegas, bookstores, and more. Tamar enlisted pet photographer Andrew Marttila  to capture all the amazing felines she introduces us to in the book. Marttila's images help tell the story of these deeply loved cats and how they came to be a Shop Cat of New York.
I could keep writing but this short video will do a better job of giving you a sneak peek inside the book.
Tamar's book is the perfect companion for your cat and you to curl up on the sofa with a nice cup of tea and escape into the story of each of the unique cats in the book.  I think you will love this book as much as I do.
The Shop Cats of New Your Book Giveaway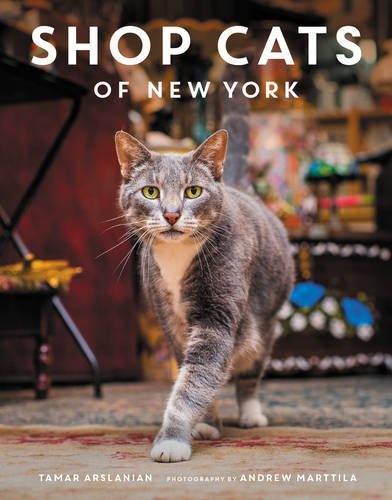 In celebration of Tamar's new book, we wanted to share a copy with a member of The Tiniest Tiger community. A Member of The Tiniest Tiger Community will win a copy of Shop Cats of New York by Tamar Arslanian.  If you can't wait and would like to get our own copy now, pounce here: Shop Cats of New York
  ( Amazon affiliate)
How to Enter
Enter your information in the contest widget so we know where to ship your prize if you win. Leave a comment below this post telling us;  Have you met any Shop Cats in stores where you shop?
This giveaway is open to everyone.
I received a review copy of Shop Cats of New York  but all opinions are my own.