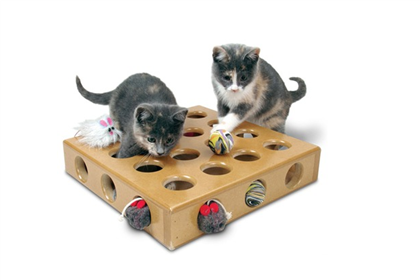 Smart Products for Smart Cats
Cats are smart. As cat parents, we know this, right? So in order to meet our cats mental and physical needs we need to provide them with puzzle toys that challenge then and keep them engaged. Your cat has the natural instinct to stalk, pounce and ambush so to keep your cat entertained and happy provide them with the right types of toys that will allow your cat to release their inner wildcat.
When I received the Peek-a-Prize Toy Box in a package from 1-800-Pet-Meds, I knew this would be a great product to offer to one of the friends of The Tiniest Tiger. Annie, Eddie and Maggie have a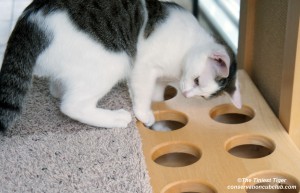 hunting platform on the Cat Power Tower and they put it to good use. Annie especially loves to attack the toys that are hidden inside. All cats have an instinctual desire to watch when they know that something is hiding just beyond their sight.
The Peek-a-Prize Toy Box
The Peek-a-Prize Toy Box is designed to build on your cat's instinct by partially hiding some of your cat's favorite toys, and your cat will love fishing them out! Peek-a-Prize is especially great for those times when you have to leave your cat home alone, because this toy will keep your cat occupied for hours.
Be sure to switch out the toys in the box so your cat is always searching for something different. The Peek-a-Prize Toy Box can also double as a puzzle feeder. Just place a few treats inside and your cat will enjoy the hunt for her treats. We like the toy box for a lot of reasons and here are a few:
Features and Benefits
Encourages cats' natural predatory behaviors
Stimulates indoor-only cats to keep them mentally and physically fit
For food-motivated cats, drop kitty treats into the toy box for cats to retrieve and eat
Works with virtually any appropriately sized cat toy or catnip
Durable wood Toy Box will last for years and looks great with any furnishings
To Enter our Peek-a-Prize Toy Box Giveaway:
Enter your information in the contest widget and leave a comment below telling me how you think your cat would benefit from having a puzzle box.
The Rules:
This contest will end on October 20, 2013. Please one comment per person. I will enter all names in to Randomizer.com. The winner will be notified by email or through facebook depending on the contact information you provide. If you connect through facebook, check your Other messages not just your main messages. Make sure you are watching for an email from us. The subject line will say Peek-a-Prize Winner! Void where prohibited by law.