Love at First Purr!
You Had Me At Meow! by our good friend and artist Missy Johnson caught my eye and it was love at first purr.  Missy is  the creative force behind Dogs for the Paws; art making a difference for animals. Even though the name is Dogs for the Paws, Missy cares deeply for cats too.  In fact, just like us, she loves all animals.   When I saw her You Had Me at Meow! I  became super excited because I thought you would love it too!
Missy Johnson, Artist and Creator of Dogs for the Paws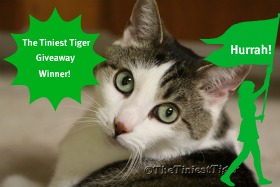 Congratulations and Supper Hurrah to our winners!!!!  We chose using randomizer.org because all the stories are so heartfelt and touching.  Thank you for loving all cats, big and small.