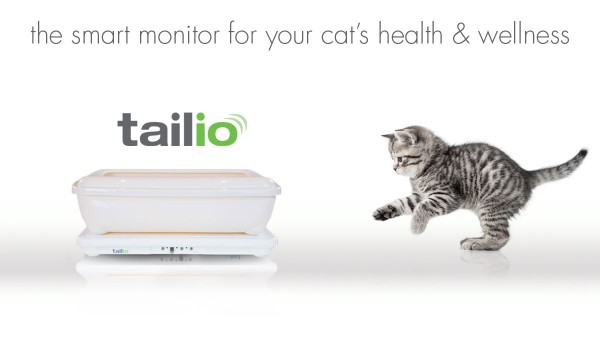 When Gracey developed transient diabetes, after pancreatitis, one of the ways we monitored her health was by keeping a close watch on her litter box.  Even for the two years when she recovered from the transient diabetes and before she was diagnosed with feline diabetes, we kept a careful eye on her litter box use.  We paid attention to see how often she was going to the box and also on the size of the clumps we would find and then we switched to the Smart Cat Box with the reservoir that collected urine so we could check her output. This was a constant worry to us, making sure we would notice any change in her output and frequency of use.
Tailio: The Smart Monitor For Your Cat's Health and Wellness
Your cat's health issues may have symptoms such as a  change in weight, or elimination patterns from diarrhea or constipation to other conditions such as cancer, diabetes, hyperthyroidism, congestive heart failure and kidney disease. And cats are prone to urinary tract issues including obstructions too.
Now that we have Annie, Eddie and Mercy living with us, I wondered how to keep a watchful eye on each of them to make sure they were healthy.  Then I learned about Tailio.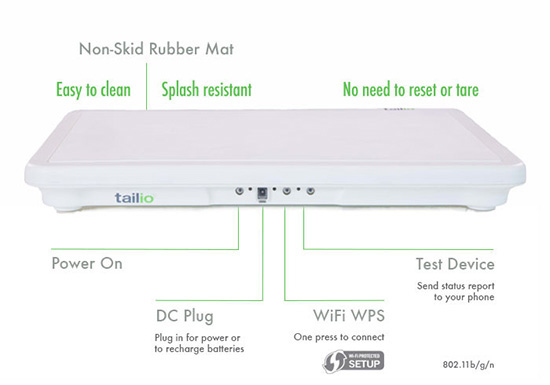 Tailio is an ingenious new product that allows you to use technology to monitor and alert you when there are changes in your cat's weight and litter box behavior. The Tailio is your partner in keeping track of what might be a first sign of an issue with your cat's health.  You simply place the Tailio device underneath your regular litter box and the device will monitor your cat's weight and box habits.

Tailio is Easy To Set Up and Connect
Tailio is easy to set up and connects to your home wireless network permitting you to monitor and share data with other family members and with your cat's doctors.  Now instead of tiptoeing and spying on your cat, you can rely on Tailio to measure your cat's weight, their visits to the litter box and measure the output too.  This information is so important to track changes and make sure your cat is healthy.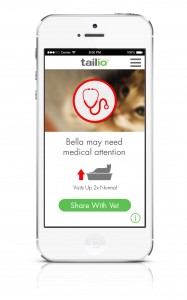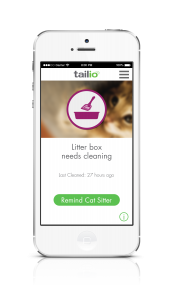 The smart phone app is for both iOS and Android so you can stay connected with your cat's health and habits no matter where you are.  You can even set up a health profile for your cat, set reminders and alerts and share this information with others.  Paul and I often discuss the litter box behavior of our cats so we would be thrilled to have the Tailio set up to help us keep track.
Tailio provides answers to the questions most asked by your veterinarians. What is the complaint and for how long it has been going on. The Tailio app has a single symptom history screen with the list of issues detected. For example, weight loss and increases in litter box visits, when the change first occurred, the severity, 5% weight loss and an increase in box visits from 5 to 8 and the rate of progression, meaning is it getting worse or starting to level off.
What About Multiple Cat Homes?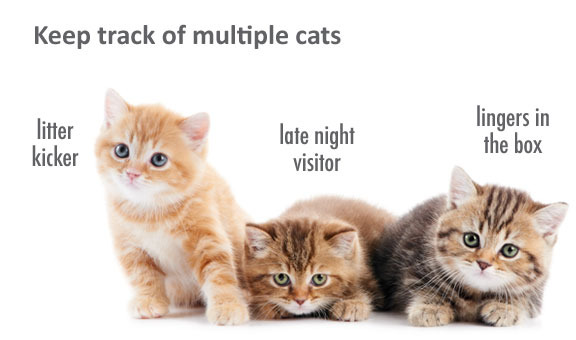 Tailio learns about each cat's individual physiology and behavior over time to intelligently distinguish between each cat.  The device creates a "pawprint" unique to each one of your cats.  This profile includes weight, elimination patterns and detailed behavior in the box, including time spent in the box, time spend doing the actual "deed", time and intensity of covering their waste with litter and more.  Eddie is a litter kicker.  He spends more time in the box and then just kicks up a storm.  Annie is in and out in lightning speed.  Mercy saunters into the box, decides where to deposit and then lets it go.  Tailio is able to distinguish each cat's behavior pattern!
To provide the most complete coverage of your cats health and well-being, Tailio suggests one device per box.  With three cats in the house we have four boxes and all four boxes are used every day.  If you only have one Tailio device but multiple litter boxes, you will still get valuable information but not as complete as if you are able to track each cat using each box.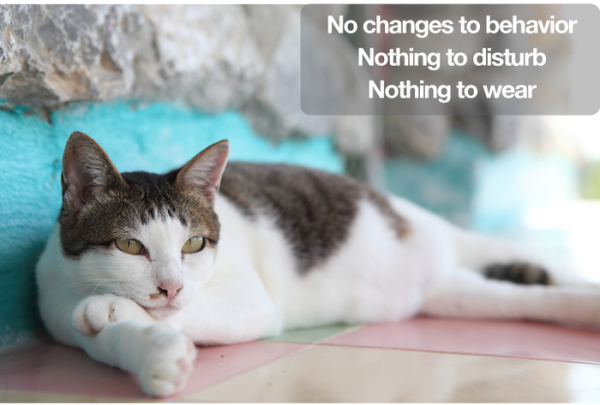 Tailio is Easy For Your Cat Too!
We all know that putting a collar on an adult cat can become a battle and to be safe for cats, collars must be self-releasing to not trap the cat if the collar gets caught on something. For this reason, collars get lost even within the home together with whatever device is attached to them.  There is typically a minimum size, usually 8-10 pounds, and many cats are smaller. Tailio wanted to be able to include all cats and be easy for your cat too so this smart device requires nothing be put on or inside your cat's body.  And, Tailio blends in to your cat's surroundings as it rests under the litter box.
Nothing to Disturb Your Cat:
All materials are odor-free and have no glossy reflections
No noises, vibrations, or blinking lights, even WiFi is off when your cat's in the litter box
DC powered for their safety
Tailio Was Created By a Fellow Cat Lover
As a cat owner, Alex Treiner developed Tailio with his own personal experiences in mind. He says,"I know the heartbreak of discovering your beloved cat's illness too late. I knew if I could develop a device that detected signs of disease or distress earlier, that it would help owners to avoid the pain of losing their pets before their time. That's why I created Tailio."
To learn more about Tailio and get a promotional discount on your own device visit the
Tailio Kickstarter
 page.
This post is sponsored by Tailio. I am being compensated for helping spread the word about this innovative new product. However,  The Tiniest Tiger only shares information we feel is relevant to our readers and the writing is our own.