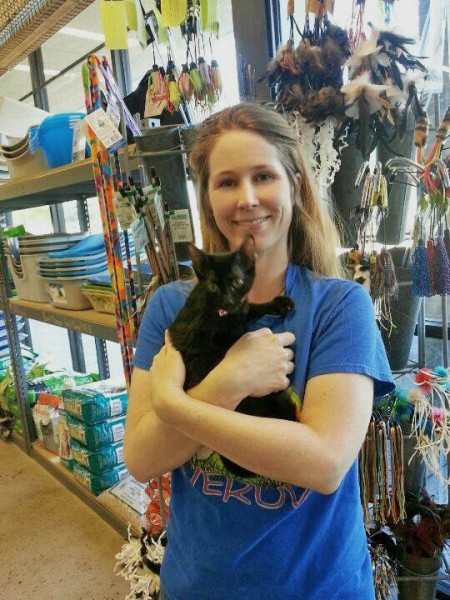 The Cat Connection Opens First Dallas Cat Cafe
The Cat Connection, a Dallas based pet supply store and cat only hotel and spa, will be home to the first Cat Café in Dallas-Fort Worth metroplex for four weekends starting Saturday August 8th, from 11:00 AM to 4:00 PM.  Errin West, co-owner of The Cat Connection believes the café will be, "A great opportunity for cat lovers in the area to connect with and interact with adoptable animals in a relaxed setting, hopefully increasing adoptions for local rescue groups."
The Cat Cafe will feature adoptable cats and kittens compliments of various local rescue groups. Guests will be able to play with cats on a first-come-first-serve basis for up to twenty minutes. Donations are not required but are appreciated as they will go to support local rescue.
Operation Kindness Will Provide Adoptable Cats For Grand Opening
Operation Kindness will provide adoptable cats and kittens for the Grand Opening on August 8th, and be on hand to facilitate adoptions. Operation Kindness is the original and largest no-kill animal shelter in North Texas, saving more than 75,000 cats and dogs over almost 40 years. The organization cares for approximately 300 cats and dogs on a daily basis, with another 100 in foster homes.
Guests will Meet Special Guest Sauerkraut Kitty
Not only will guests will have the opportunity to indulge in specialty coffee drinks and treats but will get to meet a special guest of honor, internet celebrity cat,  Sauerkraut Kitty. Sauerkraut is a special needs rescue kitty from Central Oklahoma Humane Society. Rising to internet fame due to her adorable scowl and struggles with Feline Hyperesthesia, Sauerkraut now serves as an ambassador for shelter cats nation-wide.
Cat Cafes Help Increase Cat Adoptions
Cat Cafes help find forever homes for shelter cats
While popular in Japan for decades, cat cafés have become a reality in the United States within the last year. These cafes appeal not only to those who can't have a cat due to rental restrictions or an allergic housemate but to those looking to adopt and want to interact more intimately with a cat out of their cages to gain a better understanding of a cat's temperament.
The Cat Café, located at 14233 Inwood Road in Dallas, will be open on Saturday August 8, 15, 22 and 29 from 11:00 AM to 4:00 PM CT. To ensure both feline and human attendees have an enjoyable time, The Cat Connection asks that no outside animals be brought to the event. Children are allowed under an adult guardian's supervision.  For more event details, please visit
About The Cat Connection
The Cat Connection is a women-owned business founded in 1985. The shop prides itself as being the premiere Dallas Fort Worth resource for everything cat: from boarding and grooming to all-natural organic foods and hard-to-find toys and supplies. The Cat Connection also offers an online shopping experience at http://www.thecatconnection.com. You can follow The Cat Connection for updates on  Facebook and on  Twitter: @TheCatCo