Our Cats Love the CatIt Design Senses Super Roller Circuit Cat Toy
I knew Eddie would love the Catit Design Senses Super Roller Circuit Toy for Cats
.*  Maggie had a toy with a ball inside of a circle that Eddie just loved.  Maggie didn't seem to care about it that much, but it was her toy from Marie's house so we sent it with Maggie to her new home.  I think Paul was happy to see the toy go because Eddie would play and play and play with that toy and it made quite a noise….in the middle of the night.
So when CatIt asked us to try out their Design Senses Super Roller Circuit I knew that this would be Eddie's toy.  No sooner did Paul and I have it put together..in the sun room, did Eddie pounce into the center and stake his claim.
But it didn't take long for  Annie to investigate what was so interesting to Eddie.   At first, the two  of them were playing together.  Annie took her turn.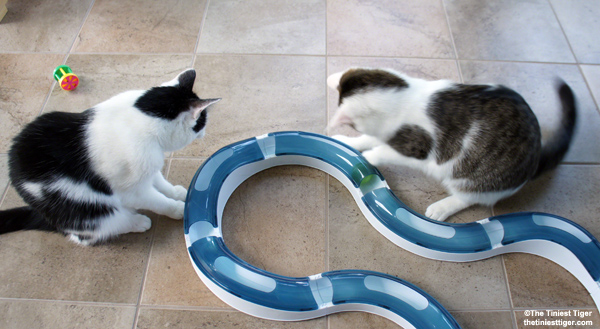 And then Eddie took his turn.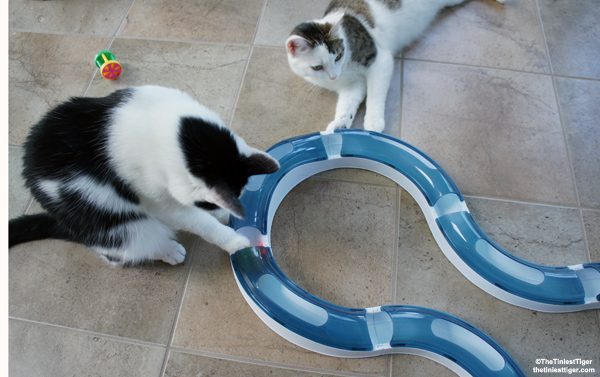 And then we had a little rumble.
Nobody was injured during this little skirmish. Soon the bird activity in the yard became more interesting to Annie and Eddie reclaimed his Super Roller Circuit Toy.
Sometime during the night, Eddie and Annie figured out how to take the top part of the track off.  So we put it back in place and then I watched to see if I could catch them in action.  Sure enough, working together, Eddie held the track and Annie slid and pulled off the top part and  swatted the ball out of the track.  Little devils.  So we snapped it back together again, and so far so good.  Eddie loves this toy and we hope your cat will too.
The CatIt Design Senses Super Roller Circuit Giveaway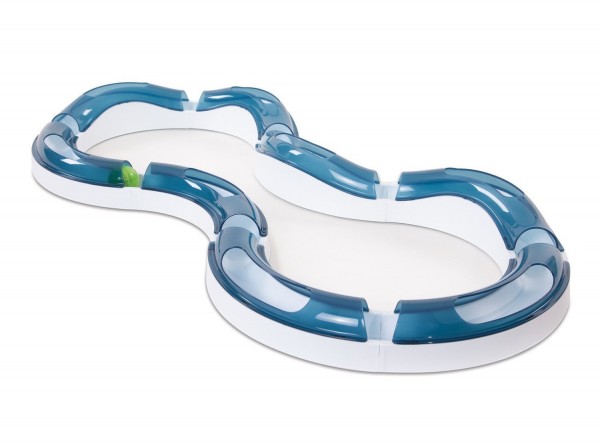 One member of The Tiniest Tiger community will win a CatIt Design Senses Super Roller Circuit Cat Toy.  This giveaway is open to residents of the USA due to shipping.  Sorry about that. But you can still enter and if you win, you can have the toy shipped to a friend or shelter of your choice.