The Friskies in New York City
Last Tuesday, October 15, Paul and I had the honor of attending The Friskies in New York City. Gracey's video The Tiniest Tiger's Snow Adventure was a finalist in the CatVenture category and we would find out later that night if we would be taking home the golden Catuette.
Early that evening, all the finalists gathered in the hotel lobby and walked a short distance to Arena, the venue for The Friskies. During the cocktail hour from 6:00pm- 7:00 pm, we mingled with the other finalists, chatted about our videos and had our photos taken.
Everyone at Friskies was super nice and made sure all of our needs were met and then some taking very good care of us the entire time. We listened to our instructions on what to do if our video received the most votes. We would be called to the stage to accept the golden Catuette and share a 30 second acceptance speech.
And then I got nervous. I am cat like in the fact that I like to see but not be seen. Heading to the stage gave me the jitters. What if you fall down, what if…what if…. what if.
The Friskies Stage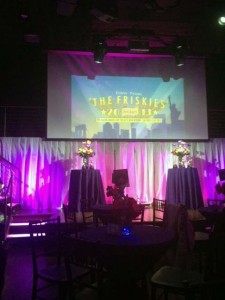 Paul and I were seated at table 12. I sat down and took in the room. It was quite pretty with purple theme lighting and cat inspired centerpieces.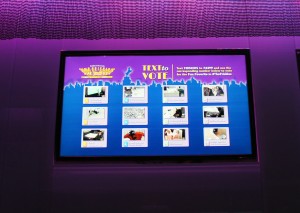 The finalist videos were displayed up on the big screen. The room was filled with happy energy and excitement. Grumpy Cat was in the house and I got to meet her in the media room before the show.
Everything is more fun with friends!
Everything is more fun with friends, and I was so happy to see Robin from Covered in Cat Hair, Wendy Diamond, Tamar from I Have Cat and Stephanie from Catsparella. Layla from Cat Wisdom 101 was there too but I wasn't able to capture her on camera. These ladies are so much fun and just knowing they were there made me feel better.
The Friskies Hosted by Michael Ian Black
Michael Ian Black was the host and he did a terrific job. He really made the event fun. The CatVenture Category was up second so our wait wasn't too long to find out if we won. When my name was called, I didn't hear anything else just The Tiniest Tiger and then I walked up to the stage, without falling down, and I am pretty sure I made a 30 second acceptance speech.
When I returned to my seat, The Tiniest Tiger's Snow Adventure was shown to the audience. Paul and I weren't expecting to be hit so hard with sadness seeing Gracey up on that big screen. I had watched that video many times at home, but during the video when she climbs back into her heated thinking circle and the words Home Sweet Home were displayed, I felt a tear roll down my cheek. I looked at Paul and he just shook his head no, like don't look at me because I understand and feel the same way.
Photos and Interviews and SWAG
After the show, there were what seemed like never ending photos. I met Will Braden, creator of Henri, le Chat Noir and of course Grumpy Cat! And then it was time to head out and relax with our golden Catuette! We were given a really cool Friskies SWAG bag full of fun cat things. And because we couldn't have done this without you, I want to give the Friskies SWAG to one of you!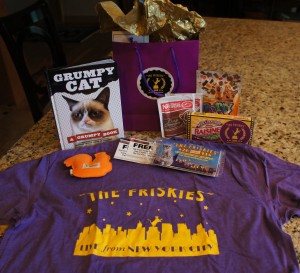 Here is what you will receive! Grumpy Cat book, a special The Friskies Cat Toy, The Friskies Popcorn, Raisinets, Hot Chocolate Mix, Coupons for FREE Friskies Cat Food, Friskies Party Mix, and a limited edition The Friskies Live from New York City T-Shirt and…..I might throw in a couple of surprises too!
To Enter our The Friskies SWAG Giveaway:
Enter your information in the contest widget and leave a comment below telling me what you would like the most from the SWAG bag.
The Rules:
This contest will end on October 29, 2013. Please one comment per person. I will enter all names in to Randomizer.com. The winner will be notified by email or through facebook depending on the contact information you provide. If you connect through facebook, check your Other messages not just your main messages. Make sure you are watching for an email from us. The subject line will say Friskies SWAG Winner! Void where prohibited by law.