The Spirit of "Catness"
All of our cats have that indispensable quality that determines their character.  Every cat is unique but they all have that spirit or "catness" that makes us fall in love with them.
I have been thinking about Annie, Eddie and Mercy and trying to narrow it down to one word. For Annie, I think of the words Smart and Fearless.  For Eddie, I think of his big MEOW when he wants something and sweet. Mercy is Independent and sweet too.  When we distill it down what traits do all cats have in common.
How would you describe your cat in one word?  Smart, Independent, Sweet?  What makes up your cat's unique spirit and lovable nature?  
New Cat Essence Necklace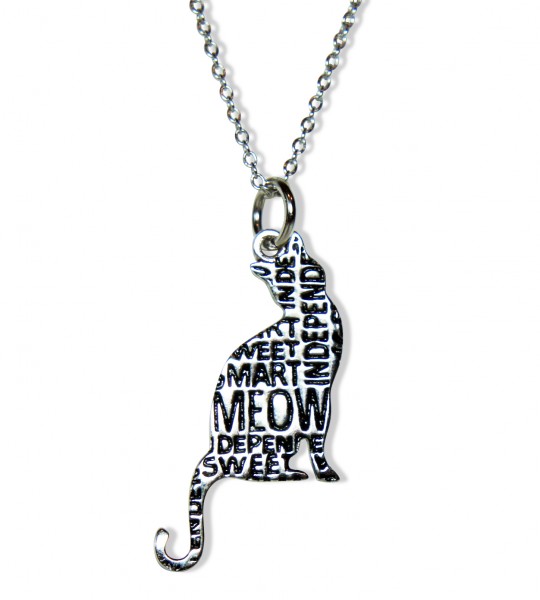 I thought this new sterling silver necklace with a word cloud of characteristics  stamped into the silver is a fun way to show your love for your cat and the character that makes them so irresistible.
This pretty cat pendant, made from 925 sterling silver is understated but quite beautiful with a touch of whimsy. This stylish little cat pendant necklace is:
925 sterling silver
The cat pendant is 1.25″ from ear to tail by .25″ across the widest part of cat body (3.2 cm by .64 cm)
The chain is 17.25″. (43.82 cm )
Spring ring clasp
The necklace weighs 3.8 g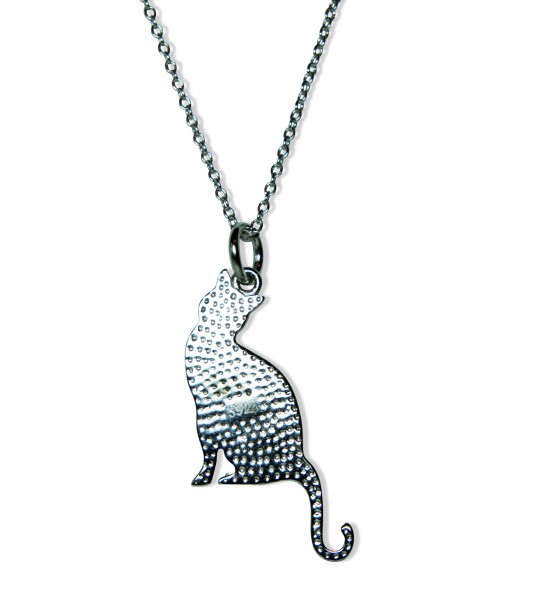 The Cat Essence Necklace Giveaway
One member of The Tiniest Tiger community will receive the new sterling silver Cat Essence Necklace.  If you can't wait, you can learn more about the new necklace here Triple T Studios.
How to Enter
Enter your information in the contest widget so we know where to ship your prize if you win.
Leave a comment below this post telling us:  What one word would you use to describe your cat?
This giveaway is open to everyone!  Void Where Prohibited.