I am most curious because I am a Cat, so I am conducting a coloring book poll. Will you participate?
Friends, here is the cover and a proof page from The Tiniest Tiger coloring book.  What do you think?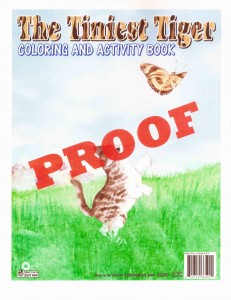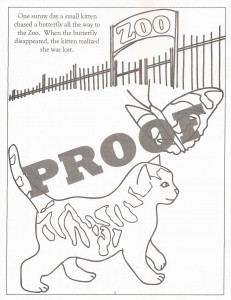 The Tiniest Tiger Coloring Book is in process. The expected delivery date is scheduled for the week of December 6, 2010. There will be a limited number of coloring books available for this holiday season. To make sure you are not disappointed, you can pre-order your copies by clicking on the image above.

The Tiniest Tiger Coloring Book will have a card stock full color cover and will have 16 black and white pages for coloring. The book will also include 4 puzzles; one word search, one maze, one crossword and one puzzle yet to be determined.
Each coloring book will be $4.99 USD

If you would like to order bulk copies and/or you live outside the US, please send me a message so that I can calculate your discount and/or your shipping costs. Gracey@thetiniesttiger.com

Friends I am excited about the coloring book and I hope you will like it too!
Thank you!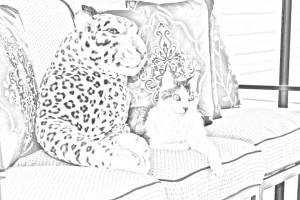 Friends, so you can practice, I have made you a coloring page of Lazy Leopard and me, Gracey, The Tiniest Tiger.  Don't worry, the actual coloring book will be much better than this page I made with my own paws.  hahahahaha!