I was tagged by our friend Carol Bryant of Fido Friendly to be a part of The 7 Links, Tripbase Blog Post Project. I was honored to be tagged by Carol to share 7 links from our Conservation Cub Club blog.  This took me some time to decide which posts to choose for each of the categories.  I hope you like the posts I have chosen.
At the bottom are 5 blogs I have tagged to take the torch and run with their 7 best links.  Thank you for reading The Tiniest Tiger's Conservation Cub Club.
MOST BEAUTIFUL POST:
Lion Guardians Give Each Lion a Maasai Name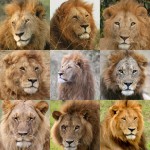 It was super tough for me to choose, but I chose this post with all the African Male Lions as the Most Beautiful. Our  wild lions are in trouble and the Lion Guardian Project is showing great promise for the conservation of the big cat. One of my favorite things about the project is the naming of each lion. The naming and telling of stories about each lion emphasizes the individuality of each cat. It is also much easier to forgive the lion for preying on livestock when you know the name and unique traits. I asked  the readers to tell me which lion caught their eye and why. They are all handsome, don't you agree?
MOST POPULAR POST
Iams Home 4 the Holidays! Help The Tiniest Tiger Feed Shelter Cats and Dogs by just Leaving a Comment.

Our most popular post  was our participation in the Helen Woodward Animal Center and Iams Home 4 the Holidays campaign.  By posting comments here on our Conservation Cub Club and by uploading photos on our The Tiniest Tiger Facebook page, our community's participation generated 32,375 meals, generously donated by Iams, for our cousins in need.  We look forward to participating in this event again this fall.
MOST CONTROVERSIAL POST
Cat Obituary: Farewell Eastern Cougar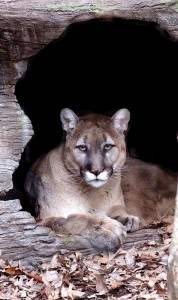 The Eastern Cougar was declared extinct by the United States Fish and Wildlife Service (USFWS) on March 2, 2011 after a long and protracted review process. This post was written in an obituary format  with cause of death determined to be  the human-wildlife conflict that is prevalent in the world today.   The post ends with the following paragraph:
The announcement of the extinction was made quietly and  the cougar was put to rest without a ceremony. And that is fitting I suppose for a cat so elusive it was given the nickname "ghost cat".  Researchers believe the subspecies has  been extinct since the 1930?s and was listed as an endangered species in 1973.
Even though the extinction conclusion was not  unexpected, the official declaration of extinction,  the acknowledgment that the big cat is gone forever still hurts.
Some of the comments included, "There are no words to describe the sadness" and "This breaks my heart" as well as a quotation from a poem called  Bestiary by Joanna Macy  "Give me a song, a song for a sadness too vast for my heart, for a rage too wild for my throat."  This reader went on to say that cougars have always been very dear to my heart. This news is "a sadness too vast for my heart."
Well said and agreed.
MOST HELPFUL POST
The Tiniest Tiger's Chow Code Alert Chart
The Most Helpful Post was updated at the suggestions of  Lia Greco.  Thank you Lia!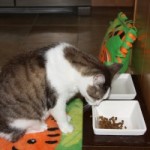 After  shocking photos were released from my habitat exposing my ~shiver~ empty chow bowl, many  commented that their Cat feels the exact same anxiety as I do when the chow in their  bowls reaches a dangerously low level.  I created The Tiniest Tiger's Chow Code Alert Chart to help pet parents keep the chow bowls at optimum levels to avoid stress on their loved ones.
Please Consider Staying Home with your Cat on the  4th of July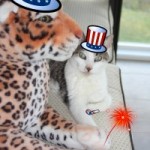 This post was a reminder to pet parents that our feline companions are much more sensitive to loud noises than humans.  The post encouraged staying home with their pets  and to provide a safe haven from the noise within the home so that the cat can be comforted and unafraid.  Fireworks are fleeting, your love for your pet is forever.
POST WHOSE SUCCESS SURPRISED YOU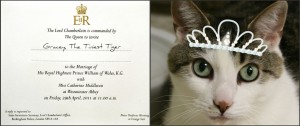 This was a fun post telling a story about Gracey, The Tiniest Tiger being invited to the Royal Wedding and her visit with the Queen and the royal family.  I was pleasantly surprised that there were so many facebook shares and comments both here and on our facebook page.
POST THAT DIDN"T GET THE ATTENTION IT DESERVED
Small Paws Unite for St. Francis Animal Rescue Center
The purpose of The St. Francis Animal Rescue Center is to rescue unwanted, abandoned, and homeless cats and care for them until they can find homes.  They are a no-kill, cage-free shelter that provides, food, housing and veterinary care for the cats in their care. They have found a new location for the center and are in need of any help that they can receive to keep on caring for the cats.
POST MOST PROUD OF
Pouring Love on Cats at PurrEver Ranch
PurrEver Ranch Sanctuary is a place of refuge for cats that would otherwise perish, the old, the abandoned, the abused, the sick and the suffering. Our friend Rita works non-stop as the sole caretaker.  Our small paws united to make a difference for our senior citizen cat cousins by raising over $2000 for Rita and the herd.  Iams generously donated Iams Premium Protection Senior Cat so that our cousins bowls would be filled over 500 times.
What do you think of my choices?  Which post is your favorite?
Here are the 5 bloggers that I follow regularly to keep this relay going!
Cafe Girl Chronicles Mostly true stories of life, love lust and longing. This blog is written by my mom's college roommate and Eurail travel mate.  Those two boarded a ship from France to Ireland with $5.00 in their pockets, lived off of bread and cheese from Norway to Italy, and got thrown out of the forum in Rome.   Catherine LaRose  continues the journey in her blog  and in her soon to be released Any Color But Beige.  I think you will like the blog, the book and Catherine.
PetsWeekly Stacy Mantle's Pets Weekly covers the gamut of pets from cats to horses, to birds and reptiles.  You can look forward to the latest news, product reviews and information on his site.
I Have Cat Tamar began "I Have Cat" as a way to chronicle her life as a 30 something NYC singleton looking for love despite the complication of owning a cat(s).
Sparkle the Designer Cat This is the personal diary of Sparkle, a purebred Somali cat. There are lots of photos, advice and feline fun.
The Conscious Cat A resource for conscious living, health and happiness for cats and their humans. Ingrid King is the author of the book Buckley's Story, a must read for feline fans.