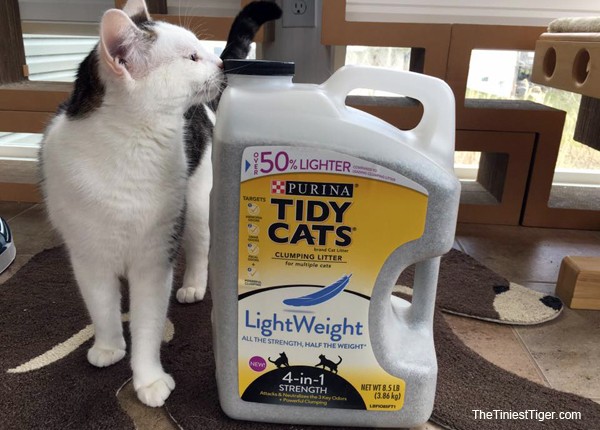 We are a member of the Tidy Cats Insiders and are being compensated to help spread the word about innovations and updates about Tidy Cats. The Tiniest Tiger only writes about topics that we think will also be of interest to you and all opinions are our own.
Say Buh-Bye to the 4 Main Offenders of a Clean Litter Box
We have four litter boxes in our home.  One for each cat plus one extra.  That is 4 times the chances of odor sneaking up on us and causing unpleasant smells to infiltrate our home. We stay on top of the litter boxes and scoop on a regular schedule.  Well, Paul scoops more than me.  I do more dishes and he scoops the litter boxes.  He prefers that task.  I am happy to oblige.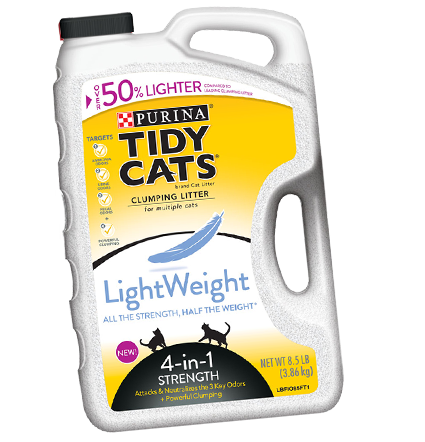 Fortunately, Tidy Cats just introduced the new 4-In-1 Strength LightWeight Litter.  This new litter  has 4 times the fight by tackling the 4 main offenders of a clean litter box.  Tidy's 4-in-1 LightWeight litter snuffs out ammonia, urine and fecal odors and clumps tight to make scooping easy.
No More Dreading Dragging In the Cat Litter!
We keep litter boxes in the lower level of our house, also known as, the Man Cave.  This used to cause me to dread dragging the Tidy Cats jugs through the house and down the stairs.  Tidy Cats LightWeight litters are 50% lighter compared to the leading clumping litter.  I can now carry a Tidy Cats LightWeight in each hand to the basement with no problem cutting my carrying time in half and my dread down to zero. This new litter might be LightWeight but it works heavy-duty on offensive litter box odors to keep your house smelling fresh.
LightWeight 4-in-1 Strength Available At Select Retailers February, 2016
LightWeight 4-in-1 Strength became available at select retailers in February.  You can learn more about this new litter by visiting http://www.tidycats.com/products/lightweight/strength
You can catch up on all the Tidy Cats news by following them on:
Facebook: facebook.com/tidycats
Twitter: twitter.com/TidyCats