We are a member of the Tidy Cats Insiders and are being compensated to help spread the word about innovations and updates about Tidy Cats. The Tiniest Tiger only writes about topics that we think will also be of interest to you and all opinions are our own.
Tidy Cats asked us to take a walk down memory lane and reflect on when our cats were kittens during #ThrowbackKittenWeek.  We love all of our cats the same of course, but had we not seen Annie's picture on facebook, we would not have met Eddie.
As you might remember, Annie and Eddie were in the same cage at Grayson County Humane Society. When we asked if Annie had bonded with another cat, Donna told us that she and Eddie had become good friends. It was double love at first sight.  We brough them both home.
This is Annie's first kitten photo.  We took this photo when she and Eddie were just getting used to being in our home.  Look at her little face.  I think this photo captures her personality.  She is smart and curious and is truly a sweet cat.
Sharing our lives with Annie and Eddie has brought  so much joy into our home. Watching them grow from kittens to young cats has provided many happy moments and lots of laughter.  When the kittens first came home, Paul asked me how long they were going to be so energetic and I said oh for a few years at least.  But the one thing about cats that is super easy…is litterbox training.  They seem to just know what to do and that is a bonus, isn't it? And through the years, Tidy Cats has been there with us to keep their boxes at the ready.
#ThrowBackKittenWeek
This week, Tidy Cats is inviting you to take a trip down memory lane by participating in Throwback Kitten Week: a weeklong end-of-the-year celebration where we'll ask you to look back at your cats and the paws-itively adorable kittens they once were.
Tidy Cats sent us this cute caticature of Annie in celebration of the kitten she was and the sweet young cat she is today.  We hope you will take a few moments here at year's end to think about your cat's kittenhood and enjoy the walk down memory lane.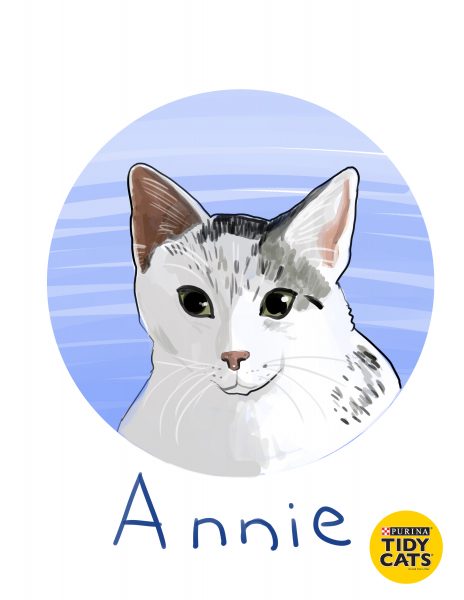 Tidy Cats Helps Lighten the Holiday Shopping Load