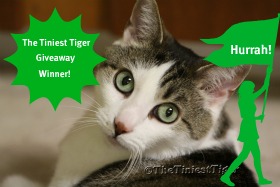 Welcome to our first Prize Winners Announcement Page.
A couple of weeks ago I took a poll to see if you thought posting this image would help you locate when the winners of The Tiniest Tiger giveaways and contests are  announced.  The overwhelming majority thought that this image would make finding the winners much easier.
I also took a poll on our The Tiniest Tiger facebook page asking what length of time we should give a winner to claim their prize.  After the winner is announced, I send out an email to notify the lucky  recipient.  Sometimes I don't hear back from the winners and then we get a back log of prizes and that prevents us from moving forward with new contests because I start feeling overwhelmed with unclaimed prizes and unfinished business.
Most of you thought we should wait just one week for the prize to be claimed.  However, two friends left compelling reasons why it should be two weeks.  What if someone is on vacation or ill an can't check the computer?  So, I decided to make it two weeks from the time of  the announcement and to make it even easier, we will announce our winners on Tuesdays.
Now on to the Winners!
CONTEST 1
HELP THE TINIEST TIGER CELEBRATE THE DOG DAYS OF SUMMER GIVEAWAY WINNERS
WINNERS HAVE UNTIL SEPTEMBER 13 TO CLAIM THEIR PRIZE
THE DOG DAYS OF SUMMER TRAVEL PACK
Danielle A Engle and Misty Woo
THE DOG DAYS OF SUMMER BOOK BAG
Mette  and Bamsemums
THE DOG DAYS OF SUMMER INNOVA TREATS AND FREE CHOW!
AAB and Teddy
CONTEST 2
THE ELEPHANT IN THE LIVING ROOM REVIEW & DVD GIVEAWAY
JANELLM
CONTEST 3
RED TANGO CREATOR TALKS WITH THE TINIEST TIGER + GIVEAWAY
This prize have been unclaimed for two months now so I drew a new winner by Random Number Generator and the new winner is:
Sheree1022