Sometimes it seems overwhelming when you think about what you can do to help an endangered species. At times you might even feel forlorn and on the brink of hopelessness because you think that one person can't make a difference. But the truth is, you can make a difference, and when we join together, we can all make a big difference.
In our article 3 Simple Things You Can Do to Help Save Wild Tigers, we talk about what you can do to make a difference for the future of the wild tigers. These might seem like little things, but together we can all help stop the destruction of wild tiger habitats and bring awareness to our friends and family that might not know about the predicament of wild tigers.
We thought it would be fun to create a The Tiniest Tiger watch to remind you that the time to save wild tigers is now and that you can help!
The Tiniest Tiger Watch Giveaway
The Tiniest Tiger Watch is a big-faced timepiece that will never go out of style. Featuring a three-hand quartz movement and genuine leather strap, this watch's classic look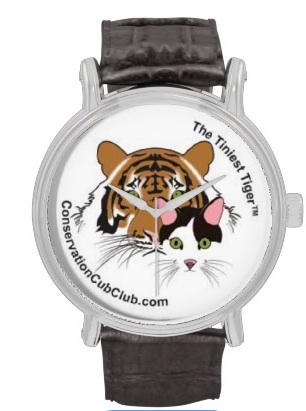 is great for formal or fun occasions. Customized with The Tiniest Tiger's signature logo to remind you that there is still time to save wild tigers!
Black leather strap with buckle closure.
Water resistant to 30 meters.
Three-hand quartz movement.
Powered by battery (included).
To Enter:
Enter your information in the contest widget.
Pounce over to our post by clicking here: 3 Simple Things You Can Do to Help Save Wild Tigers
Come back and leave a comment below telling us what one thing you promise to do to help save wild tigers.
You will find many options for additional entries in the widget including signing up for The Tiniest Tiger news.
The Rules:
This contest will end on January 18, 2014. Please one comment per person. I will enter all names in to Randomizer.com. The winner will be notified by email or through facebook depending on the contact information you provide. If you connect through facebook, check your Other messages not just your main messages. Make sure you are watching for an email from us. The subject line will say TTT Watch Winner! Void where prohibited by law.