We are a member of the Tidy Cats Insiders and are being compensated to help spread the word about innovations and updates about Tidy Cats. The Tiniest Tiger only writes about topics that we think will also be of interest to you and all opinions are our own.
Tiny Hats To Ring in The New Year
Tidy Cats teamed up with Adam Ellis, the creator of Tiny Hats for Cats, to help cats ring in the New Year in style.  You can check out Adam's tiny hats on his Instagram account.   Adam created a tiny hat for Annie, Eddie and Mercy to wear to help us get into the spirit of 2016!  With such a festive hat, Paul and I decided we better do a little party planning of our own.
New Year's Eve Party Plan!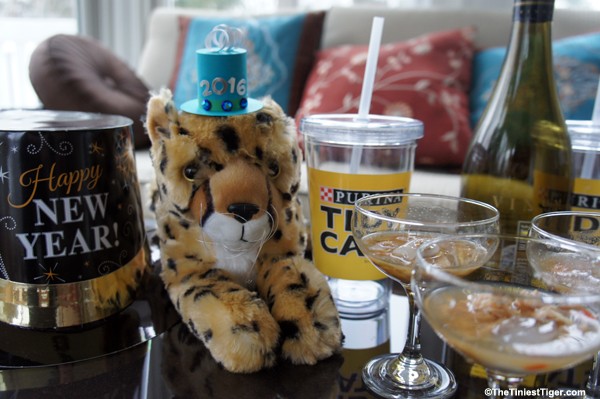 In preparation for the big night, we carefully planned the party menu.  We decided the Meow-tinis with fish shaped ice cubes were just the thing for Annie, Eddie and Mercy.
Paul and I will be enjoying a nice white wine while wearing our own Happy New  Year hats! To make sure I got the recipe purr-fected I invited the cats to do a taste test.
Tiny Hats and Meow-tinis  make for a Purr-fect Party
The menu is set now for New Year's Eve and our hats are ready to wear.  With all of this excitement, Annie decided she must take a cat nap if she is expected to stay up until midnight to ring in the new year.
The Tiny Hat and One-Year-Supply of Tidy Cats Litter Giveaway!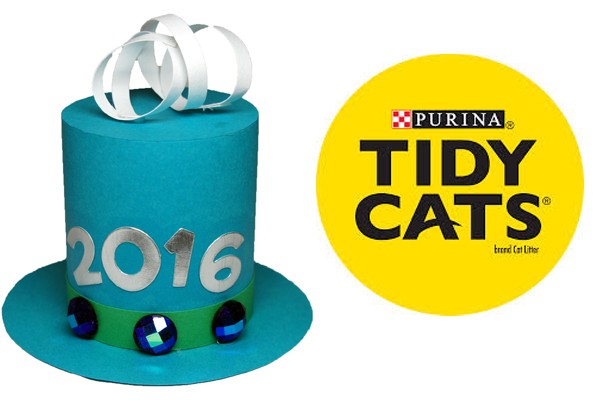 Tidy Cats asked Adam Ellis to create a hand crafted tiny hat just for us. One member of The Tiniest Tiger Community will win not only the tiny hat, but  a one-year-supply of Tidy Cats litter (in the form of 12 product coupons) 
How to Enter
Enter your information in the contest widget so we know where to ship your prize if you win.
Leave a comment below this post telling us:  How will you celebrate New Year's Eve with your cats?
Giveaway is open to USA addresses only.
The Rules:
Void where prohibited by law.