Tipsy Nip Organic Catnip Products are on a mission.
To have a Tickle Pickle™ in EVERY cat home!
When our friends at Tipsy Nip Organic Catnip Products asked me if I would like to review their wonderful products, I quickly responded  YES, before my mom even saw the email.  I mean, organic cat nip?  Oh yes, I  am more than
willing to  take on that responsibility.
When my package arrived, and it was in fact my package,  it had my name on it and everything, I didn't even have to read the label to know it was my package from Tipsy Nip. The delightful aroma was wafting my way even before Mailman Phil left the porch. I needed my mom to assist me in opening the box. I was super excited when I saw all the wonderful products for me to try.
But as usual, my mom had to read all about the products first. Here is what we learned.
You will be happy to know that Tipsy Nip Organic Catnip Products are made in Vermont, and are created using only the best quality materials and ingredients. The company is committed to creating safe, quality toys and treats.  Everything they use is made, grown, or manufactured in the USA. Their catnip is certified organic, and  I just want to say that it smells like the best catnip…EVER!   (I took in some serious whiffs while waiting for my mom to let me at it.)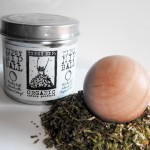 In my package was the Tickle Pickle™. This is their signature toy and their BEST SELLING product. This toy is stuffed with 100% eye-crossing, high potency Organic Tipsy Nip™. There are no polly fillers, just 100% organic catnip.
Milia, from Tipsy Nip was so nice she even sent me a Tipsy Nip™ Ball, a nontoxic wooden ball infused with Organic Tipsy Nip™. This is a safe alternative to mylar, plastic and other toxic materials most commonly used to make cat toys.  And just in case, I needed more catnip, I received a container of pure Tipsy Nip™.  That container is stored out of my reach.  My parents told me that I need to Tipsy Nip™ in moderation.
Here is what happened when I finally got my paws on the Tickle Pickle™.
And guess what?  Now you can pounce on your own chance to receive a Tickle Pickle™ from  our friends at Tipsy Nip Organic Cat Products! Super Hurrah!
This is my first time using the new giveaway app so let me know what you think.
And if you can't wait, you can receive 20% off of your order here by using our special code TT2011 (cap sensitive) within the next 30 days.
Here is all you need to do for your chance to win a Tickle Pickle™: