This post is sponsored by PetSmart, and the BlogPaws Professional Pet Blogger Network. I am being compensated for helping spread the word about Dental Health Month, but The Tiniest Tiger only shares information we feel is relevant to our readers. PetSmart is not responsible for the content of this article.
Taking Care of Your Cat's Teeth
Our Eddie was born with a genetic defect that lead to the extraction of all his teeth but his canines.  He is doing better than ever after his surgery but we want to do everything possible to help him hold onto those canines.  Annie's teeth are in good shape and we want to keep them that way.  We started brushing the kittens teeth when they were very young to get them used to the process.  We want to do what we can to maintain their dental health and help prevent  dental disease.
Did you know that 70% of cats show signs of dental disease by the time they are just three years old?  When your cat's gums are inflamed, bacteria can enter the bloodstream and if left untreated can lead to serious health issues with their heart, liver and kidneys.  So the build up of plaque and tartar along with gingivitis are serious heath concerns not just a dental issue.
Feline Greenies® Dental Treats Help Reduce Tartar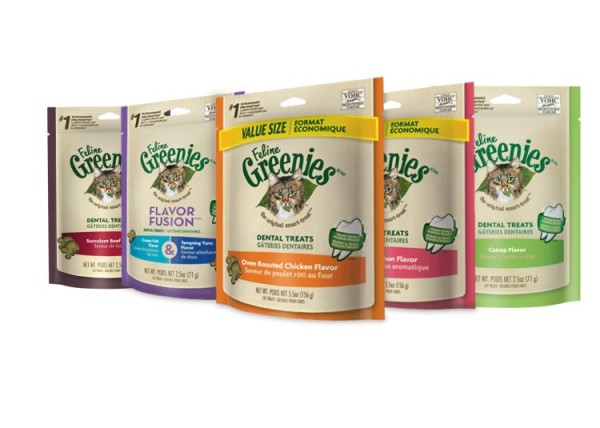 Feline Greenies are the only cat treat to have The Veterinary Oral Health Council Seal of Acceptance for tartar reduction.  These treats offer complete nutrition and help your cat maintain good dental care.  Feline Greenies have a unique shape and crunchy texture that's proven to reduce tartar.  Plus, they must be super tasty because our three cats come running when it is time for their dental treats and we have to make sure each cat gets their own treat because Annie has been known to swipe a treat from her brothers.
The Feline Greenies help clean your cat's teeth by using their natural chewing action to clear away tartar buildup from the surface of their teeth.  These dental treats are made from a natural formula with added vitamins, minerals, taurine and chlorophyll for optimum cat health.  Each treat is only 1.25 calories and they contain no artificial flavors or preservatives, so daily treating will not lead to your cat becoming overweight.
Feline Greenies® at PetSmart®
We like to shop for our Feline Greenies at PetSmart®.  There is a store close to where Paul works so it is super easy for him to stop in when our stock is getting low.
PetSmart offers all six delicious flavors of Feline Greenies too.You can also purchase  your Feline Greenies from PetSMart online. You can choose from Oven Roasted Chicken, Ocean Fish, Savory Salmon, Tempting Tuna, Catnip and Succulent Beef.   Oven Roasted Chicken is Eddie's favorite, Annie loves the Catnip and Mercy prefers the Tempting Tuna.
I had to snap this photo really fast while Paul gave Eddie and Annie their Feline Greenies Dental Treats!   Annie has already chomped one of hers while Eddie is getting ready to bat his away from Annie to make sure he get to enjoy his treat.