Welcome to The Tiniest Tiger's Conservation Cub Club!
Super Hurrah for Mary!  The winner of The Tiniest Tiger Hipster!  Don't wander far, we will be hosting other exciting giveaways soon.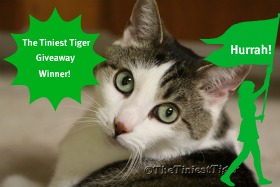 The Tiniest Tiger's Conservation Cub Club where small paws are uniting to make a big difference!
Thank you for stopping by our community.  This is our first time participating in the 5MinutesforMom.com Ultimate Blog Party and we are looking forward to meeting new friends and learning about you and your site.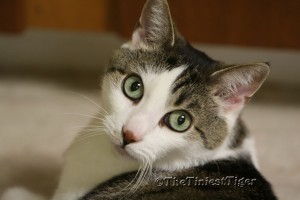 My name is Gracey, The Tiniest Tiger, and I am a domestic cat. I am a lucky cat because I live in a safe and loving home where I have plenty of food, fresh water and toys to keep me healthy and happy.  My  human parents rescued me from the dog pound as a wee kitten and  have provided me a safe environment in which to thrive!
But some of the members of my extended family have not been so lucky. Most of my big cat relatives are in trouble and at risk for extinction!  But if you take action and help your family and friends realize how important all animals are in the world, we can make a difference.
Our Conservation Cub Club  is where we  learn about  organizations and people that are working hard to protect our wild big cats and our domestic cousins  in need.  We also have fun, learn about new products, host giveaways and more.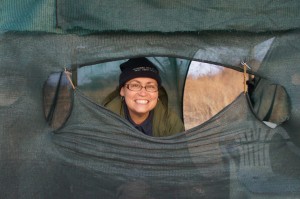 This is my mom, Joanne McGonagle.   She just completed a Master of Zoology degree and the photo is from last summer when she was participating in a wildlife count with the Cheetah Conservation Fund in Namibia.   We both write  here on The Tiniest Tiger and I hope you will visit us again soon.
We wanted to celebrate our participation in the Ultimate Blog Party 2013 by giving away one of our The Tiniest Tiger Hipster Bags!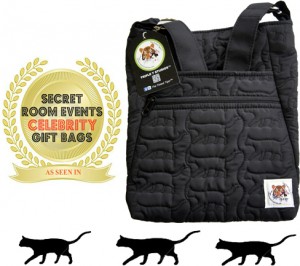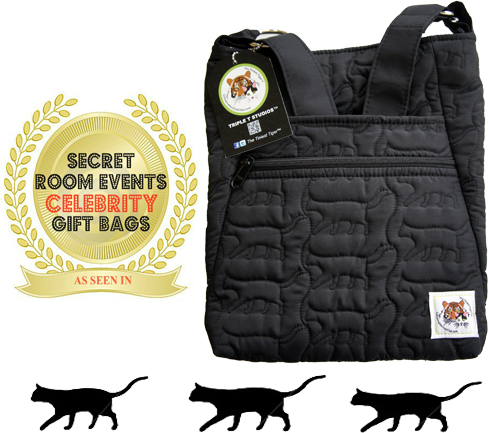 This one of a kind hipster features The Tiniest Tiger's feline finesse quilted into the sleek black fabric creating a subtle yet cool cat appearance. The irresistible design combined with the hands free practicality of the cross body Hipster make this the perfect bag when you are on the prowl.  To learn more about our Triple T Studios handbags and accessories go to  triple-t-studios.com
How to Enter:
Here is all you have to do:
Tell me in a comment below this post what you think of The Tiniest Tiger Hipster and if you think you would like a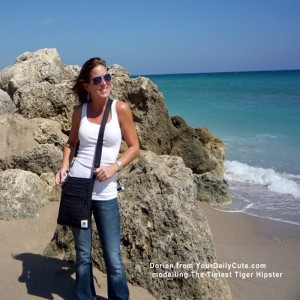 hands free crossbody bag.
The Rules:
Contest closes on Saturday April 13 at 5 pm Eastern!  This contest is now closed.
Thank you for participating.
Please one comment per person. I will enter all names in to Randomizer.com. The winner will be notified by email or through facebook depending on the contact information you provide.  Make sure you are watching for an email from me. The subject line will say The Tiniest Tiger Hipster Winner .  Void where prohibited by law.