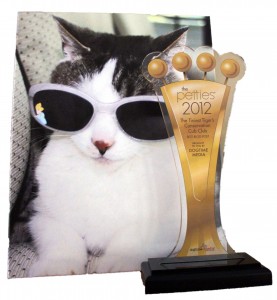 Thank you so much!
You did it! The Tiniest Tiger's Conservation Cub Club is a finalist for Best Blog Post in the 2013 Petties. We are proud to be a finalist for our blog post Since You've Been Gone Our Message to Gracey. This post is very important to me as we work through our grief from losing Gracey.
We have been honored for the past four years, since the Petties began. We were thrilled to win the Pettie for Best Blog Post in 2012 for our Cat Obituary, Farewell Eastern Cougar, I wanted the post to be a voice for the big cats and the trouble they are having surviving in human dominated landscapes. Winning the Pettie helped amplify that voice.
In 2010 we were a finalist for Best Cause Related Blog, in 2011 for Best Cat blog, in 2012 we won for best blog post and in 2013 we are a finalist for best blog post.
Voting Has Begun
Conservation Cub Club Since You've Been Gone Our Message to Gracey
We can win $1000 for Grayson County Humane Society!
If we win the Pettie we will be able to donate $1000 to Grayson County Humane Society where we adopted Annie and Eddie!
You can vote every day until the end of July and I know that is a lot of voting so I will try not aggravate you too much, I will be placing a tab on our The Tiniest Tiger's facebook page to make it easy for you to vote. When we win we will be able to donate $1000 to cats in need.
Thank you so much for caring for all cats big and small and for being a member of The Tiniest Tiger's Community.