What's New For You?
Sometimes the end of the year brings sadness and sometimes the end of the year brings a resounding good riddance! Either way, the new year is coming. Many of us decide we want to start out with a clean slate. Bury our old bad habits and begin new habits that enrich our lives. Do you have plans for the start of the new year?
Cat Agility 101 for Annie and Eddie
Earlier this year, we had the opportunity to visit Purina Farms and watch Trisha's demonstration of cat agility. It was super interesting and I even got to try my hand at running the course with one of the talented cats. Then again at BarkWorld in August, our dear friend Karen from Mousebreath spoke about cat agility. Karen happens to share her habitat with the world's largest agility cat. Karen's presentation was compelling and I thought that Annie and Eddie are both pretty smart, so perhaps they could learn to run an agility course too.
Agility is a good way to enhance the human-cat bond and as a bonus, a great way to burn off some excess kitten energy! I started Annie and Eddie out with the agility tunnel and I have to say, Annie took to it right away. As soon as I set the tunnel out, she was zipping through. Eddie, being more cautious than Annie, observes and assesses the tunnel before deciding to run through. If you think you might like to try an agility course with your cat, you can learn more including plans for building your own course here: http://mousebreath.com/plans/
For Cat Parents: The Usual
As for Paul and I, we plan to return to taking better care of ourselves. Following a healthy eating plan and I will return to swimming. This has been a tough year and even though I am typically sad at the end of the year, this time, I am ready to bring in the new year.
How about you? What are you looking forward to or planning to do in the new year?
The Tiniest Tiger Playing Cards Giveaway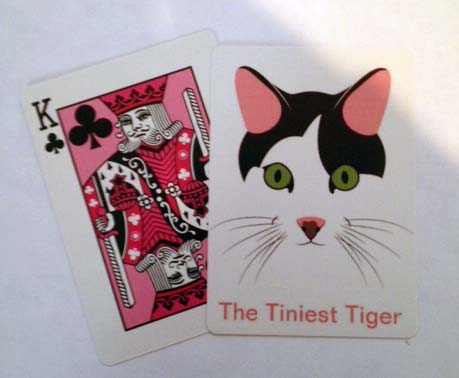 To Enter:
Enter your information in the contest widget and leave a comment below telling us what you hope is in the cards for you in the new year.
The Rules:
This contest will end on January 8, 2014. Please one comment per person. I will enter all names in to Randomizer.com. The winner will be notified by email or through facebook depending on the contact information you provide. If you connect through facebook, check your Other messages not just your main messages. Make sure you are watching for an email from us. The subject line will say TTT Playing Cards Winner! Void where prohibited by law.