Does Your Cat Need Project Pet Slim Down?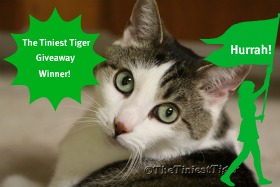 Super Hurrah! Congratulations to Dina, the winner of the $25 Target Gift Card. Thank you to everyone for participating.
My parents might say a lot of things about me like; I am mischievous, talkative and smart but one thing I am not, is a fat cat.  I am the perfect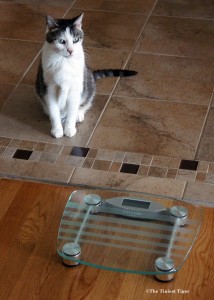 weight for my body type.   There was a time when I was a bit too thin when I was recovering from pancreatitis, but now I am wearing my 7 pounds well.  My brother Mercy, well…. ok.. he is also at a good weight for his body type.  Weighing in at 10.4 lbs. our doctors tell us he is in great shape.  He is just a bigger cat than I am, bigger boned and he really is. He is not just saying he is big boned to try to cover up the fact that he might be a bit chunky from all of those treats my grandma gives him.  But Mercy and I are in the minority of cats in the United States. Did you know that 55% of cats in the United State are overweight or obese?
In fact, it is not just cats, dogs too are overweight too even with all that in and out bathroom business and organized walking they do.  It has gotten so out of control that there is now an Association for Pet Obesity Prevention and the 2011 Pet Obesity Study found that 93 million cats and dogs are considered overweight or obese.
Friends, it is time that we all face the numbers on the scale.
Because we might need a little help getting started Purina teamed up with Target to create Project:Pet Slim Down. Purina created this online program to help your cat and dog lose weight. Cats and dogs at a healthy weight enjoy happier lives and Purina made it a mission to help every pet parent enable their cat and dog to achieve that weight.  Here are a few tips:
You can help your overweight cat play  to fitness.

Calorie burning doesn't have to be hard. It can be as simple—and rewarding—as spending more time playing together. Excess weight is a problem shared by pets and owners—and so is a less-than-active lifestyle.

Even if you can't spend more time with your pet, you can make your shared time more active. Go to Target.com/Purina and check out tips on fun and fitness with your pet. You can also visit ProjectPetSlimDown.com to read inspiring stories of cats and dogs that have lost weight with the help of this program.

                                                                                                                  

A fit cat is not only more healthy but happy.

Improved health is an important benefit of regular exercise/activity for pets. But, according to a survey commissioned by Purina1, the biggest benefits noted by owners surveyed are emotional. Owners also play with their pets to reap emotional rewards, such as fun, stress relief and bonding.

Increasing your  cat's activity can be enjoyable for both cat and owner. The key is to focus on your pet's instinct for fun.

Cats love the thrill of the chase so playtime with a laser or feather toy is a great way to turn fun into fitness.

Think of cats as sprinters, not marathon runners. They prefer to play in short bursts of energy vs. sustained activity. Take every chance you can to make your interaction with your cat more active. For example, you can "feed" your cat's instinct to hunt by using a feeding toy or treat toy. You can also hide small amounts of kibble in various places throughout the house so your cat has to "hunt" for her food. Indulge your cat's love of looking down on their surroundings by putting perches in your home. She'll get lots of exercise jumping on and off. You can also place several kibbles or treats on top of the perch to encourage activity.

Pounce on over to the Project Pet Slim Down program for more tips and to track your progress.  You can also trim down your spending at Target with  Purina coupons too.