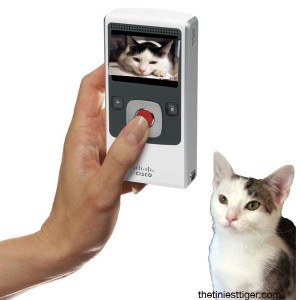 We have an extra Flip Video Camera and we though it would be nice to share. We want you to be able to video your cats in action so you can share their antics with us. Here are the details about the Flip Video Camera we are giving away to one member of The Tiniest Tiger community.
Super Easy to Use HD Camcorder
The Flip UltraHD video camera combines Flip Video's signature shoot-and-share simplicity with the power of incredible HD video. UltraHD could not be easier to use: just power on, press record, and you'll be capturing best-ever HD video. And with 8 GB of built-in memory, 2 hours of record time you'll never miss another minute of your cat's activities again.
Clear HD Video
The new UltraHD features built-in image stabilization and incredible resolution for remarkably clear and steady HD video. There are no complicated settings required. UltraHD thrives in all types of lighting environments, meaning your video will look stunning no matter the condition. Premium AAC audio makes your video sound simply amazing, too.
The Details
Shoot up to 2 hours of better-than-ever HD video on the easy-to-use, now even slimmer UltraHD

Press the big red button to start capturing vibrant HD video on the super-simple user interface

Keep your video steady with image stabilization, UltraHD's newest feature

Connect the built-in USB arm to your PC or Mac to launch pre-loaded FlipShare software

Organize, create and share your videos with FlipShare software
The Flip Ultra HD Video Camera Giveaway
You can enter to win the Flip Ultra HD Video Camera
To Enter:
Enter your information in the contest widget.
Come back and leave a comment below telling us what you would like to record on your video camera.
Important! To be fair, you must leave a comment to be eligible to win. We do check the comments when a winner is drawn. If there is no comment, we draw another name.
The Rules:
This contest will end on Februar 14, 2014. Please one comment per person. I will enter all names in to Randomizer.com. The winner will be notified by email or through facebook depending on the contact information you provide. If you connect through facebook, check your Other messages not just your main messages. Make sure you are watching for an email from us. The subject line will say Flip Ultra HD Video Camera Winner. Void where prohibited by law.