Our Message to Gracey
Since you've been gone we are doing our best to pick up and carry on but to be honest it hasn't been easy. Coming back to our home without you was one of the hardest things I ever had to do.   Putting the key into the door and not seeing your happy face running towards me made my heart sink and tears stream down my face.
Stepping inside, I saw your water fountain unplugged and stagnant.  I made it to the kitchen, put down my bags and stood still. Not hearing your voice telling me about your day, not being able to scoop you up and bury my face in your neck and not being able to carry you out into the sun room to look out over the yard, was more than I could take. Lazy Leopard looks so lonely.  I sat down and had a good cry.  The kind of cry where you can't breathe for a few moments and you think you can't go on.  But we do go on, just on a different journey.
I thought I would fill the bird feeders and take Bossy Back Yard Blue Jay his peanuts.  I procrastinated coming home, stopping by the store to load up on food for your friends.  I made it to the garage and lifted the hatch on the Jeep but that was as far as I made it that day. I felt so weak and vulnerable.  I thought I couldn't fill the feeders without being able to see your face supervising my every move from your windows in the sun room.  I wouldn't be able to touch your pink nose  through the glass  on my way back inside.
I cleaned out the refrigerator of all the different types of food we had for you.  Each lid turned with the hope that you would  eat.  We didn't know you were so sick Gracey or we wouldn't have tried so hard to make you eat. You were such a good girl and so patient with us. I washed up your bowls and syringes and packed up your little tiger rug.
I tried to be strong when your dad came home because I know how much he is hurting too.  But when I saw his face, I fell apart instead.  He wrapped his arms around me and said, "Let's go for a ride.  That's what the old folks do." And this made me laugh.  We went for that ride  to postpone being alone in the house without you. Our home feels so empty.  Your parents are lost without you.
We lost our little Gracey yesterday morning.  She passed peacefully in my arms.
Gracey was in multiple organ failure from complications of diabetes and pancreatitis that she had been living with for a little over 4 years.  We were able to mange her diabetes with two injections of ProZinc per day and she was happy and healthy until this past week.  Her doctors are wonderful and worked super hard doing everything possible to see if we could get her strength up and she could recover but it was not to be.
Paul and I needed yesterday to grieve and to gather the strength to begin the process of celebrating her wonderful life with us.  We are so grateful that Gracey chose to share her life with us and she will live on in our efforts here on her The Tiniest Tiger's Conservation Cub Club.
When Gracey won the Bissell MVP Contest in 2010 we were thrilled to donate the $10,000 to PurrEver Ranch Sanctuary.  Rita works so hard to rescue older cats and cats with special needs, just like our Gracey.  When I told Rita about Gracey she said:
PurrEver Ranch Sanctuary's cat flap remains open. Our doors would have closed and the purrs would have ended without Gracey. That pretty little girl's heart is responsible for so many homeless unwanted cats who's hearts would have stopped beating without her help. Life simply is better because of Gracey. We live because she did. Thank you our darling Guardian Angel. We always knew she had wings.
The world didn't get darker when she passed for her little bright light shines in all of us. I love you. And I love Gracey.
Gracey was an amazing little cat. From the time we rescued her from the dog pound she showed her sweet and mischievous personality. She was the inspiration for the book The Tiniest Tiger and for us taking the journey to complete a Master of Zoology to learn more about how we could help all cats big and small. Her community has grown to over 50,000 members and she would want us to continue helping her cousins in need.
We are heartbroken.  Gracey was with us every moment of our days in our home.  Paul designed the sun room windows to be the perfect height for her to look out over the back yard where she spent her days visiting with Bossy Backyard Blue Jay in the company of Lazy Leopard.  When I was in the office, she was with me keeping me company and inspiring me.
We know that Gracey would not want us to stop the work she inspired us to begin. Leaving the hospital, a local rescue group was in the lobby talking about how they hoped their fundraiser would make enough money to buy food for the cats in their care over the weekend. As it turned out, my Jeep was full of cat food, toys and other items that I was planning to take to a shelter but hadn't made it yet.  We like to think Gracey was working her magic by us being in the right place at the right time.
When I came home and was washing up a few dishes, Bossy Backyard Blue Jay came and sat on the perch outside the kitchen window.  He had not done this before.  I chatted with him and he tilted his head and looked at me as if he understood.  Then he flew around the yard and settled in the apple tree.
There is so much we would like to say, but the sadness is too much for us right now. Gracey was and is the light of our lives. Thank you for being a part of The Tiniest Tiger community and for loving our little girl too. I hope you will join us in celebrating Gracey's life and continue on the journey to care for all cats big and small.
Joanne and Paul
Wildlife Wednesday
We joined the Wordless Wednesday Blog Hop with this short video, The Most Endangered River in America. This video poem highlights  both the beauty and the troubles of this amazing river.  The video is directed and written by Pete McBride Productions.  The images are stunning and the message is important.
The Colorado River runs 1450 miles across seven states and two countries.  This might river supplies water for 36 million people. Even though the river flowed to the sea for 6 million years, the Colorado has not reached the ocean since the late 1990′s.  We hope you will take a few moments to view this important video poem.
The Overview Effect
When I was young, I imagined Africa as a far off land, with endless savannas and wilderness areas that rivaled outer space.  I  remember lying on the floor in front of the television watching Wild Kingdom,  our window on the world, as we traveled vicariously with Marlin Perkins to the far reaches of the world for exciting interactions with exotic animals in their natural habitats.
A lot has changed since those childhood days of packing a lunch with a friend and telling our parents we were setting out to seek  the source of  the creek that ran through the property surrounding our neighborhood.   This creek seemed endless to us as we walked and talked and used our imagination to pretend we were on safari looking for wildlife.
Our World is Getting Smaller
Now,  I realize how small this creek is and often times, I might even drive by  where we used to play  not giving the water rippling over the stones a second thought. And just as I thought Africa was a mysterious land of abundant space for all animals to live and thrive, we know  this is not the case. Africa's wilderness is being squeezed as elephants, lions, rhino and wildebeest all compete with humans for habitat and resources.
Today, our world even seems a lot smaller than it did when I was younger.  We can visit Africa and watch wildlife right from our homes via Africam and other online sources.  There are television programs on 24 hours, 7 days per week allowing us to see the  day to day life of people and animals on the other side of the globe.  And when you see Africa from the air, you can see the shrinking wild areas and the urban sprawl creeping out into the once wild and open spaces where earth's animals once lived  in abundance and with minimal human conflict.
Distinctive Lions Will Live Better Lives Thanks to Genetic Testing
Scientists thought there was something different about the  fifteen lions living in the rundown Addis Ababa Lion Zoo.  The male lions living in the Ethiopian zoo have large, dark brown manes that extend down their chests through their front legs, down their backs below
their shoulders and the length of their belly through the groin. These male lions are also smaller in body size than their cousins from eastern and southern Africa.  These distinguishing features  in the Addis Ababa Lions made the biologists think this group of lions are  distinctive, and in fact, made them wonder if they could  be the relatives of an extinct lion subspecies.
It had been speculated that the Addis Ababa lions might be the last pure relatives of North African Barbary lions or South African Cape lions, both subspecies now extinct. Or could these 15 lions be a completely genetically distinctive population of lion?
The lions are descended from a private collection of the last Ethiopian ruler, Emperor Haile Selassie, who captured their ancestors from the wild and brought them to his palaces in the 1940′s.  Today, these lions live in the same holding pens as the first lions captured, only now the  zoo is in poor condition and the lions are lacking proper nutrition, and inadequate space.
Addis Lion zookeepers became so overwhelmed caring for the lions that they reached out to their German "sister city" Leipzig, for help. Vets from the Leipzig zoo traveled to Ethiopia to check the health status of the lions.  While examining the lions, a team of vets took blood samples for genetic investigations  for an international breeding program in case the results confirmed these lions are their own subspecies or perhaps their own genetic construction.
Does Your Cat Need Project Pet Slim Down?
My parents might say a lot of things about me like; I am mischievous, talkative and smart but one thing I am not, is a fat cat.  I am the perfect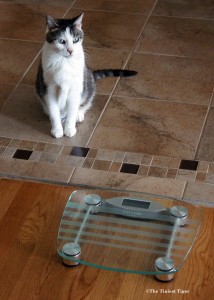 weight for my body type.   There was a time when I was a bit too thin when I was recovering from pancreatitis, but now I am wearing my 7 pounds well.  My brother Mercy, well…. ok.. he is also at a good weight for his body type.  Weighing in at 10.4 lbs. our doctors tell us he is in great shape.  He is just a bigger cat than I am, bigger boned and he really is. He is not just saying he is big boned to try to cover up the fact that he might be a bit chunky from all of those treats my grandma gives him.  But Mercy and I are in the minority of cats in the United States. Did you know that 55% of cats in the United State are overweight or obese?
In fact, it is not just cats, dogs too are overweight too even with all that in and out bathroom business and organized walking they do.  It has gotten so out of control that there is now an Association for Pet Obesity Prevention and the 2011 Pet Obesity Study found that 93 million cats and dogs are considered overweight or obese.
Friends, it is time that we all face the numbers on the scale.
Because we might need a little help getting started Purina teamed up with Target to create Project:Pet Slim Down. Purina created this online program to help your cat and dog lose weight. Cats and dogs at a healthy weight enjoy happier lives and Purina made it a mission to help every pet parent enable their cat and dog to achieve that weight.   Read the rest of this entry »
Enter your Cat Video Before May 1, 2013!
The call for entries for the Internet Cat Video Festival 2013  deadline is approaching.  Make sure you get your feline film entered ASAP! Here is the link to enter your video.  Cat Video Entry Click Here
Feline Festival Phenomenon
by Joanne McGonagle
Richard Turere's "Lion Lights" Save Lives
Richard Turere is a young Maasai boy of 13, whose family lives  on the edge of Nairobi National Park, in Kenya. As is common among the
Maasai, Richard took over the responsibility for herding and safeguarding his family's livestock when he was only 9 years old.  One of the threats to his family's cattle, sheep and goats is the presence of African lions when they wander out of Nairobi National Park following the path of zebra and other prey animals searching for savannah grasses.
Richard grew up hating lions because at night, lions would sneak in and kill the family's livestock while the boy was sleeping.  Determined to protect the families valuable livestock, Richard knew he had to think of a way to help him protect his animals from lion attacks.
Richard first built a fire, but realized even though the lions are afraid of fire, they were not afraid to go around the fire and snatch up a meal and in fact their path was made easier by the light of the fire.  Richard then tried to place a scarecrow to fool the lions into thinking that he was guarding his cattle, but this only worked for one night. Richard said, the lions are very clever, so when they returned the second night, they must have realized this scarecrow is not moving and so were no longer intimidated.
Remembering Mr. Collins.
Something wonderful happened when we started The Tiniest Tiger's facebook page.  We met and became friends with many people that we would not have had the opportunity to meet without the power of social media.  Our page was created to unite friends that love and care about all cats big and small.  But we don't limit our love only for cats, we care for all living beings. Read the rest of this entry »
By Joanne McGonagle
Discover Your Cat's True Nature
Even though cats outnumber dogs living within homes, cats remain thought of by many as aloof, anti-social and not needing the love and attention that dogs are given.  Cats are mistreated and sometimes maligned because  they have been misunderstood. Stereotypes about cats sadly remain firmly in place so the team at Purina One decided to dig deeper and learn about the cat's true nature and what makes a cat…a cat!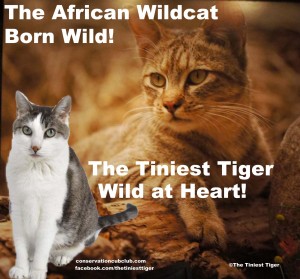 Our domestic cats roots can be traced back to the African Wildcat. So Purina One decided to go to Africa to learn more about our cats living ancestors so that we could all achieve a better understanding of what our own cats need to live their best lives.
I was thrilled to be asked by the Purina One team to join in the journey to discover the true nature of cats where we discuss and explore how to awaken, foster and nurture the natural instincts within our cat so that their lives will be enriched and in turn our own lives are better knowing that our feline family member is enjoying her life to the fullest.
I was in my final year completing my master of zoology with a focus on big cats when I first learned about the Purina One program.   I was so excited because The Tiniest Tiger children's book compares and contrasts the similarities and differences between the big cats and their domestic cousins that share our lives.
Who was your cat born to be?