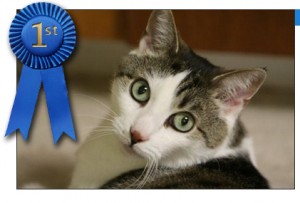 BISSELL Homecare, Inc announced the winners of its third annual Most Valuable Pet (MVP) Contest and the grand prize winner is a native New Lexington cat! Gracey, a mixed domestic short-hair feline triumphed over nearly 50,000 entrants to claim the title of 2010 MVP Grand Prize Winner. From January through March, pet owners submitted photos of their four-legged friends and campaigned for the title of America's most photogenic pet. The Grand Prize MVP is featured on Bissell pet product packaging, receives $10,000 to donate to the pet cause of their choice, and a $500 "Perfect for You and Your Pet" shopping spree.
Gracey was not yet weaned when she was abandoned as a kitten at the local dog pound and suffers from allergies and digestive issues that require special food. With the love and care of her pet parents, Joanne McGonagle and Paul Dusenberry, and expert guidance from her doctors at the Morris Veterinary Clinic, Lancaster, Ohio, she has blossomed into a beautiful and playful feline who enjoys throwing dirt out of a fig tree planter. She is the inspiration behind the children's book The Tiniest Tiger and The Conservation Cub Club (www.conservationcubclub.com) a feline education and support community. The Tiniest Tiger's over 16,000 Facebook fans were thrilled that Gracey was the first cat to win the MVP title.
Gracey posed for photographer Mindy George, owner of Images by Miss Mindy, LLC, Lancaster, Ohio. The finicky feline put her paw down preferring to be photographed at home. More than happy to appease Gracey, Miss Mindy packed up lights and backdrops from her professional studio and set up a temporary studio in the cat's New Lexington home. Gracey warmed up to Miss Mindy right away and the shoot was a success. "I was honored to have been chosen by Bissell to shoot the photos for their packaging based on the quality of my portfolio." Said Mindy.  Gracey was also filmed by David Ross from Brain Storm Media, Columbus, Ohio.  Ross shot video of Diane Keaton, Tom Brokaw and then Gracey over a three day period, putting the cat in good company with the celebrities, and perhaps even making her a celebri-cat.
Gracey, Joanne and Paul plan to donate the $10,000 grand prize to PurrEver Ranch Sanctuary, a non-profit hospice for senior and special needs cats living with disease or behavior issues. It is one of a very few feline-specific hospices in the country. Gracey once shared her home with Hazel, a 19-year old domestic short-hair feline. Caring for Hazel during her final senior years and managing Gracey's health challenges helped Joanne and Paul understand and appreciate PurrEver Ranch's commitment to supporting cats with special needs. The Somerville Tennessee Ranch, which was founded by Rita Wood, will use the money to secure permanent housing for and continue to care for cats.
Gracey's photo will be featured on the Pet Hair Eraser® Corded Hand Vacuum, available in stores in September, 2010.