Super Hurrah for Kenna and PatsyAnne! They are our two winners of the Scratch'n Shapes for them and their shelter!
Imperial Cat  wanted to help me spread some holiday cheer!
So they are offering one of their unique and wonderful  
Scratch'n Shapes
as a giveaway to one of  our Friends!  Super Hurrah!!  I love my  Imperial Cat Scratch'n Shape
Orca and that is why I included it in my
Gracey's Gift Guide
.  I scratch and scratch and scratch on my Scratch'n Shape Orca and  it feels really good on my claws. My parents are happy too because I  scratch the  Orca Scratch 'n Shapes and not the sofa.
And just in time for the holidays Imperial Cat added new designs that will add cheer to your house that both human and  cats will enjoy. The latest holiday themed Scratch 'n Shapes patterns include snowflakes, festive Christmas trees and plenty of red and green seasonal designs.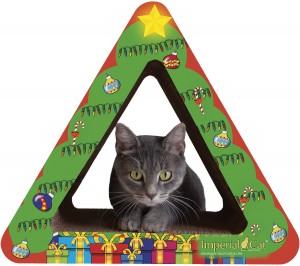 The honeycomb texture of the cardboard imitates natural tree bark so that we indoor tiny tigers can imagine we are wild tigers as we sink our claws into the scratchers.  Our urge to scratch is natural, we really can't help ourselves,  so providing a great alternative to the sofa and holiday tree is a super terrific idea.
The Imperial Cat Scratch'n Shapes are also:
PURR-fect for the eco-minded:
Made in the USA from 100% post consumer recycled corrugated cardboard and are 100% recyclable after use.
PURR-fect for the holiday fanatic:
Whimsical scratching posts let Cats celebrate the holidays too.
PURR-fect for the playful or restful:
Imperial Cat scratchers are excellent perches for cats  to play or lounge.  I often take a nap on top of mine.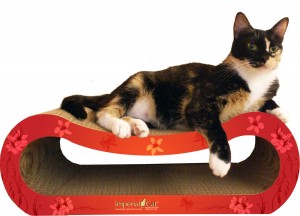 Here is all you need to do for your chance to win your very own Scratch n' Shape.
Just leave a comment below this post here on our The Tiniest Tiger's Conservation Cub Club telling me :
What your Cat loves to scratch in your habitat!
The winner will receive a Scratch n' Shape either  from the Modern line or the Holiday line.  It will be a surprise!
And if we get 50 comments, a case of 15 assorted Scratch' n Bits will be shipped directly to the shelter of the winner's choice!! Super Exciting!
The Rules
The contest is now closed.  Thank you for your participation!
This contest closes on December 9, 2011 at 7 pm Eastern.  I will put your names into Randomizer.com to choose one winner.  The winner will have 3 days to claim their prize or another winner will be chosen.  Void where prohibited by law.
Remember to enter our Safe Paw means Safe Pets and a Safe Planet Giveaway. Pounce here!