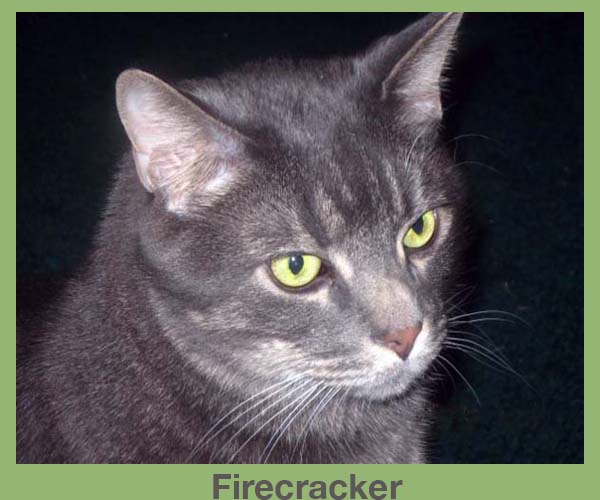 Laura's Cat Firecracker
Laura found Firecracker by chance on the 4th of July back in 2003. She spent the day with family and on the drive home, stopped by the store to pick up a few things.On her way into the store, Laura heard a kitten crying. She and her friend already had a cat and weren't looking to add another member to the household. But Laura couldn't walk away when she realized the crying was coming from underneath a truck parked in the lot. She crawled under the truck, a reached up into the frame and rescued the small kitten, who was alone, no sign of his mother or any siblings.
Firecracker Joins the Family
Firecracker rode home in the palm of Laura's hand. It was a Saturday to they decided to keep the little guy until Monday, but that day never came. After five years, circumstances changed and Laura found herself living with her mother and she had to leave Firecracker behind because her mom had a cat already and they weren't sure how they would get along.But Laura went to see Firecracker every day and it nearly broke her heart when he would cry when she left for the night.
Laura's mom decided they could make it work and Firecracker moved in with them. Laura said she would be forever grateful for her mom allowing her little guy to stay with them.
A New Beginning
Soon Laura found a place of her own, and she began her life as a single cat mom. She created a Myspace profile and used Firecracker's photo as her profile image. Laura struck up a friendship with an admirer of Firecracker's photo and after many conversations; she decided to accept a date with the new suitor. After some time, Firecracker was introduced to Laura's new boyfriend and he liked him right away. Laura knew this because when Firecracker liked you, he would climb up onto your chest and stay there, all 23 pounds of him.
A little over a year later, Laura and Firecracker moved in with her boyfriend and his cat Nala. Firecracker and Nala got along just fine and they were a happy family for four years.
One day in May Firecracker started pulling out his fur and wasn't as playful as he used to be. Laura thought it was his allergies acting up but it turned out to be more serious. Firecracker was treated for hyperthyroidism and it was working. Then they lost Nala in July. In September the couple adopted a cat named Fancy and they were happy again.
 Always in Her Heart
Shortly after, Firecracker quit eating and they received bad news from the veterinarian. Firecracker was quite ill and wouldn't be getting any better. Laura made the hardest decision of her life, she loved firecracker so much she didn't want him to suffer.
Firecracker left Laura's life like he came into her life, on her chest, in her arms. Laura said Firecracker gave her 9.5 great years and that is why she needed to tell his story.
Our hearts go out to Laura and we thank her for sharing Firecracker's story.
Feline Friends Friday
If you would like to share your cat's story with our community, please send us a message here: Contact . This is the the Contact page you see at the top of the page.