SuperCat Plush Toy Dinos and Gators with SuperCat Catnip Spray
Now that Spring is here, we thought the cats might like some new brightly colored fun toys. So we pounced on the opportunity to learn more about the SuperCat Plush Toys
from Quaker Pet Group.   The durable plush toys come in cute character shapes including Dinos, Gators, Yetis and Birdz.
For even more fun, each SuperCat plush 2-pack includes a sample of SuperCat Catnip Spray.  Made with Nano-Burst Technology, this clear, non-staining and non-toxic spray is ideal for keeping toys fresh with pungent catnip scent.
Release the Fun!
Nanoburst Technology traps catnip bubbles so that each time a surface is rubbed, buffed or scratched thousands of particles burst and release catnip scent. The catnip is refreshed each time the cat plays and more bubbles break. Making for a long-lasting extended release of catnip molecules.   So long lasting the scent will stay fresh for up to 6 weeks!
The Catnip Spray is great to use, just about anywhere. You can spray the micro-encapsulated catnip scent on toys, paper, floors, walls, scratching posts, bedding or use it to help entice cats to enter their carriers!
SuperCat noticed that the cat category had lacked innovation for many years.  Because cats are naturally playful the Quaker Pet Group wanted to explore new ways to engage and enrich the lives of felines.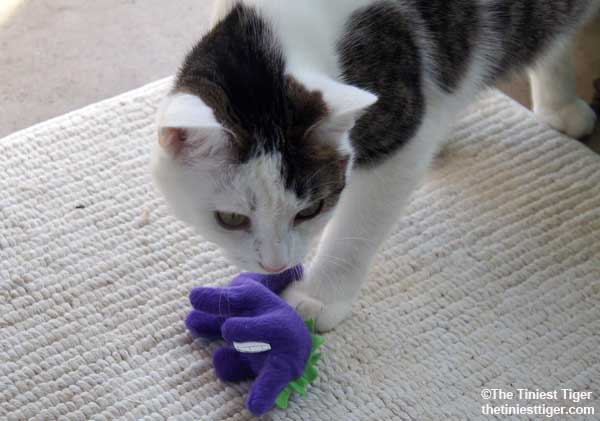 The SuperCat Plush Toy with Catnip Spray Giveaway
Enter to win a 2-pack of SuperCat Plush Toys with Catnip Spray!
To Enter:
Enter your information in the contest widget so we know where to ship your prize if you win. Tell us in a comment below this post which SuperCat plush toy you like best, the Gators or the Dinos.
The Rules:
This contest will end on April 4 , 2014. Please one comment per person. I will enter all names in to Randomizer.com. The winner will be notified by email or through facebook depending on the contact information you provide. If you connect through facebook, check your Other messages not just your main messages. Make sure you are watching for an email from us. The subject line will say SuperCat Plush Toy Giveaway!  Void where prohibited by law.
If you can't wait for the giveaway and want to try the SuperCat Catnip Spray, you can find it when you click on our  Amazon affiliate link.