Today is Pet Remembrance Day.
We miss Gracey every day but are now able to smile when we think of her. There are the bouts of overwhelming sadness too but we are working through the process and are forever grateful to each of you that has helped us along the way. I wrote a series of posts along our healing journey, starting with Since You've Been Gone.  I  receive messages from friends who are also on their healing journey telling me how finding a kindred spirit who understands the true depth of pet loss is helping them heal their broken hearts.
Purr Prints of the Heart- A Cat's Tale of Life, Death, and Beyond.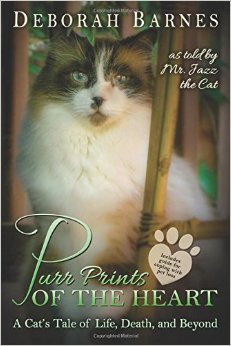 Our friend Deb Barnes wrote the book Purr Prints of the Heart – A Cat's Tale of Life, Death, and Beyond  after saying goodbye on August 28, 2013 to her beloved Ragdoll companion cat, Mr. Jazz, who had lived to the age of 15. Deb's book's purpose is to help others who have lost a pet and are having difficulty with the grieving process.
Mr. Jazz and Deb spent a lifetime together. The bond they shared was special. Mr. Jazz was her companion through the best and worst of times. When  the realization that Mr. Jazz was dying at 15 years of age, Deb knew she would have to face the difficult and painful decision of helping let him go. Deb learned invaluable lessons from her beloved cat about life, love, grieving and letting go.
She knew her experience of loving and losing Mr. Jazz would resonate with most anyone that had lost a pet.  Deb's goal is to help others working through the loss of a loved one.  Purr Prints of the Heart includes a Guide to Coping with Pet Loss section that is sure to help mend the broken-hearted.
Rainbow Bridge Remembrance Day
A few years ago, and perhaps still today, showing outward emotion and sorrow after the lost of a pet was met with ridicule and often times the bereft pet parent was dismissed and told to just get over it.
Online pet loving communities have helped those grieving reach out to find the support, compassion and love they need to process their emotions and work their way through the loss of their family member.
Today is the first Rainbow Bridge Remembrance Day. This day is to honor those pets that live on in our hearts.  Deb wants you to think of today like a giant worldwide hug of comfort.
Remembering our Gracey, The Tiniest Tiger