Even thought the name is BarkWorld……
it doesn't mean cats aren't welcome!  In fact cat lovers are encouraged to attend BarkWorld and the 2012 conference will be the cats pajamas!  We are speaking at the 2012 BarkWorld one of   our favorite cat lovers, Miss Moderncat is giving a presentation too. Super Hurrah!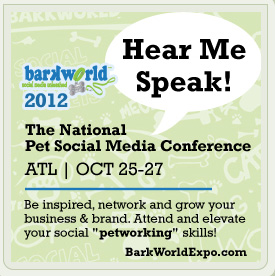 About BarkWorld!
BarkWorld Expo was created by Denise Quashie, Social Media Strategist for Socially Planned.  When Denise's dog, Frankie Beans began to Twitter she realized there was a big pet loving community using social media. Being an award-winning event & social media producer, Denise decided to create a conference for this community.   BarkWorld Expo has continued to grow since it began in 2009, and has become a  strong online support for the cause of sharing and educating pet lovers within social media.
Stay tuned to learn more about what is being planned for the feline inclined!
Filed Under: Gracey's Blog
Tagged With: BarkWolrd, BarkWorld, BarkWorld Expo, Cat, Denise Quashie, Miss Moderncat, Pet, Recreation, Social media, Socially Planned, The Tiniest Tiger, twitter