The Year of the Snake!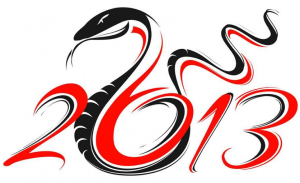 As the Lunar New Year begins, billions of humans are celebrating the year of the snake.  But, if you ask your friends and family members,  chances are they might shiver and declare their disgust and sometimes hatred of snakes.  It is important to remember that most snakes are not venomous. And that snakes do not seek out humans preferring to coexist from a distance just like you might prefer to keep your distance from them. Most snakes will bite only in self-defense so don't mess with them and they won't mess with you.  Most humans in fact, do not interact or even see a living snake in their day to day lives so why  the fear and loathing of snakes?
If you are afraid of  snakes, don't be ashamed, you might not be able to help it due to your evolutionary history. Humans that learned quickly to respect and keep their distance from snakes were more likely to survive and pass on their genes. Anthropologists think survival skills to notice snakes in the wild may have led early primates to develop better vision and larger brains. Today however, most humans do not need to be on full alert and fearful of snakes to make it through their day.  So as we start 2013, the Year of the Snake, let's find at least 3 reasons to love and celebrate snakes.
3 Reasons to Love and Celebrate Snakes!
Say Goodbye to New Year's Resolutions!
We wrote this article at the end of 2011 but  think it is worth changing the date and re-posting. We hope you do too.
Happy New Year, Gracey and Joanne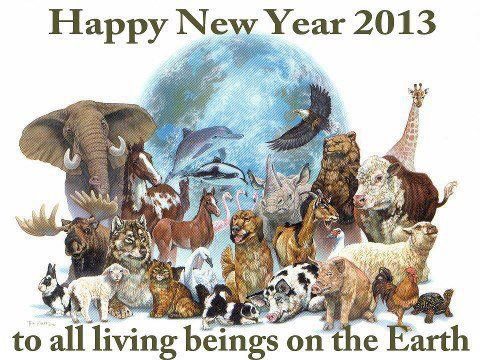 Goodbye 2012!
As we say goodbye to 2012, why not also say goodbye to making New Year's Resolutions for 2013? Let's face it, if you are one of the overwhelming majority of humans, and statistically speaking, you more than likely are, you won't stick to the resolution anyway and this deviation from the plan can lead you down a path of self-destruction!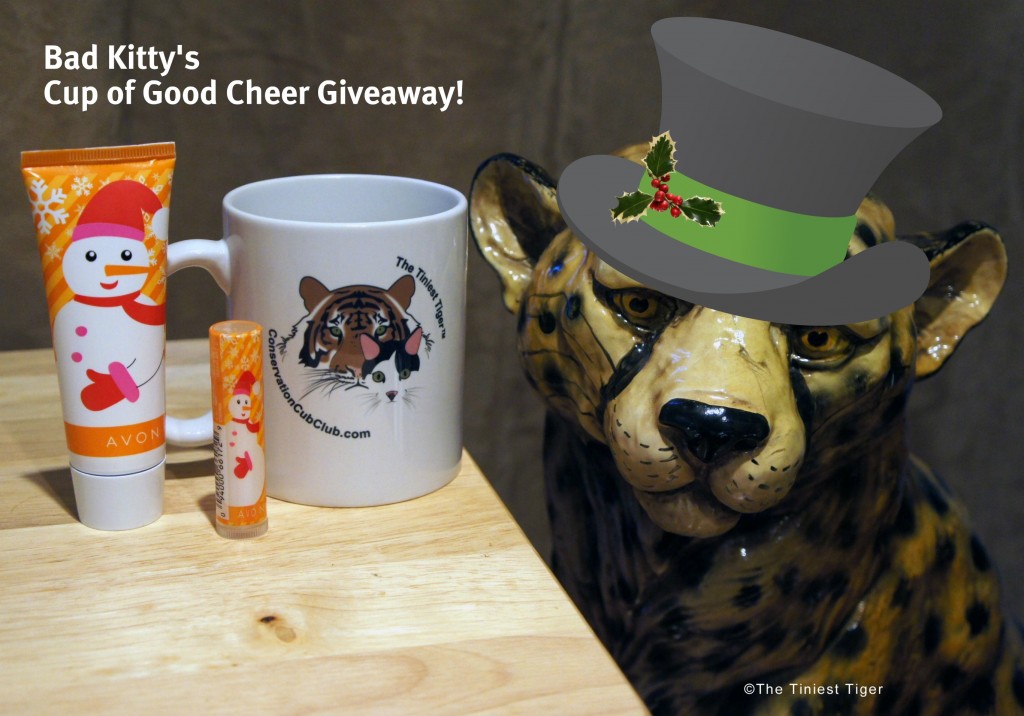 In case some of you were wondering why my pal Bad Kitty didn't have his own giveaway, it was because he wanted to wait and celebrate the New Year with his Cup of Good Cheer Giveaway!
SUPER HURRAH FOR OUR SUPER SPARKLY AND WARM WINNER-
JENNIFER PARSONS!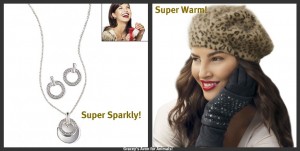 I want you all to have a Super Sparkly and Warm New Year!
Tell me how you plan to shine in 2011 to be entered to win
The Tiniest Tiger's Super Sparkly & Warm Prize.
The Sparkly is the Florence Gift Set (840-039) Twinkle twinkle…
Rhinestone-embellished circle and disc pendant in silvertone. 16 1/2″ L with 3 1/2″ extender. Earrings,3/4″ L, Pierced.
The Warm is the mark Mee-Ow Hat (413-784) Purr-fect for yourself or a friend! Spotted: a fuzzy, leopard-print beret that's completely adorable. Better pounce! Dry clean only. 63% nylon/36% angora/1% spandex.
Just post a comment telling us how you plan to shine in 2011!
You can post here on our Conservation Cub Club,  on The Tiniest Tiger 's Facebook page, or Gracey's Avon for Animals Facebook page between now and January 3, 2011!
Or if you can't wait and want to get Super Sparkly & Warm now, you can shop at Gracey's Avon for Animals anytime!